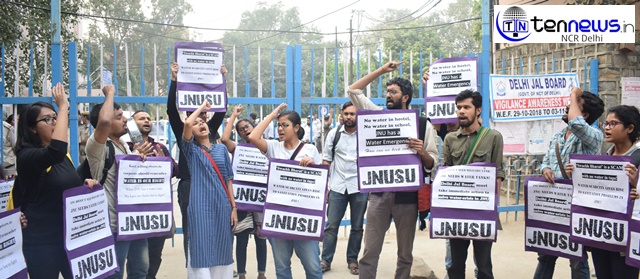 New Delhi: Today, Student Union of Jawaharlal University gathered at the doors of Delhi Jal Board and carried out a protest against Jal Board for insufficient water supply in JNU campus.
From last several weeks, JNU students are facing a very heavy scarcity of water in their campus which is becoming reason to many of the viral infections among the students.
Students, while protesting in Delhi Jal Board's premises had many thoughts going around in their minds.
According to a university officials from JNU, there is no water crisis and the varsity is getting regular water supply.
The Jawaharlal Nehru University is the foremost university in India and a world-renowned centre for teaching and research.
It has been ranked number one in India by the National Assessment and Accreditation Council (NAAC) with a grade point of 3.91 (on a scale of 4).
President of Student Union, JNU N. Sai Balaji was leading the protest and while speaking to Ten News, he said,
"This is a really very simple fact that today we are facing water scarcity and tomorrow Jio or any other BJP friendly company is gonna provide us water to get their profits more higher. We students facing such problem like water scarcity is not at all tolerable. Politicians today are playing with us for their benefits and they are unaware of the fact that how powerful a student union is. If Delhi Jal Board do not accept our demands and reveal the names of the faces behind this happening, JNUSU won't stop this protest against Jal Board."