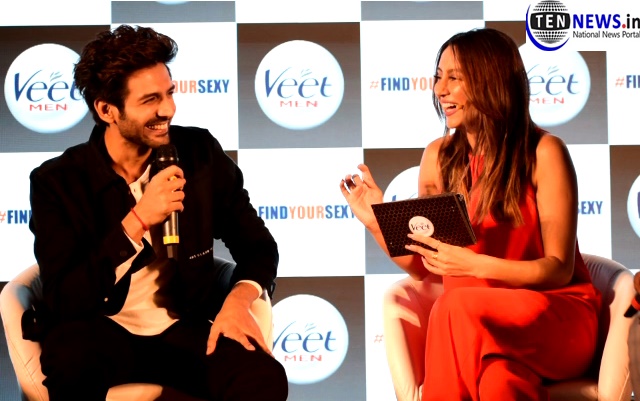 Kartik Aaryan launches Veet's Men Hair Removal Cream
Saurabh Kumar (Photo-Video) Lokesh Goswami Tennews New Delhi :
New Delhi: Veet, a popular brand in the male grooming segment in India today launched 'Veet Men Hair Removal Cream'. The brand unveiled popular Bollywood star Kartik Aaryan as the brand ambassador for Veet Men with the new campaign #FindYourSexy. The new product is a one-stop solution for men who aspire a clean and smooth look for their body, without any hassle.
Speaking about the product, Kartik Aaryan, Brand Ambassador for Veet For Men said, "Veet is a legacy brand for hair removal products and I am thrilled to be associated with the new Veet Men range of products. I myself prefer the clean and smooth look which is fast becoming the trend. I'm excited for this new campaign – FindYoursexy that encourages men to try the new product and find what works for them."
Commenting on the launch, Pankaj Duhan, Chief Marketing Officer, RB Health South Asia said, "Today's modern men realize the importance of grooming and won't shy away from going the extra mile to put their best foot forward. This is also reflected in the increasing number of men who are wanting to remove body hair for a clean & smooth look.
Interestingly, on the basis of an independent study done by InMobi, 60% of young women in the age group of 18-24 years also prefer to be with a man who removes body hair.