New Delhi: National capital celebrated Holi but the celebration was not like as it was seen in previous years, a Ten News Team went to the bungalow of BJP MP and Delhi state president Manoj Tiwari, hundreds of party workers were celebrating holi with the leader. The saffron party leaders were visiting the leader to wish him on the occasion.
Apart from that celebration at the Tiwari's place was without traditional music and bands, people were celebrating the festival of colors only with "Gulaal".
When Ten News asked people about celebration of festival without music and multi-colors, people said that around a month ago our country had lost 44 brave CRPF soldiers, this is the festival and we have to celebrate, so we are celebrating it only "gulaal", which is a sign of "Shagun".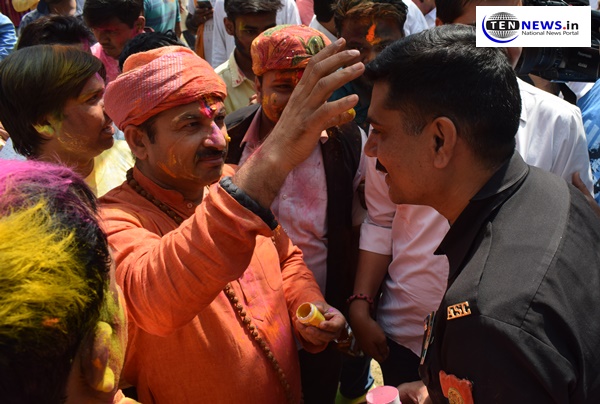 Speaking to Ten News, BJP MP Manoj Tiwari also said that we are celebrating this "holi" only by placing gulaal and sandal, this is our homage to the soldiers that lost their lives in horrific Pulwama terror attack. In the memory of our martyr we are having a very normal celebration.
Talking on the likely alliance of Aam Aadmi Party and Congress, Tiwari said that I want them to form an alliance, let the people of Delhi will know their behavior.