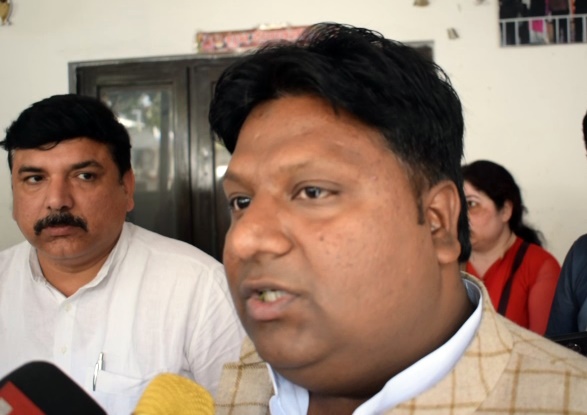 New Delhi: Aam Admi Party (AAP) MP, Sanjay Singh said that the Medico Legal Case (MLC) of the Chief Secretary Anshu Prakash says that he was physical assaulted after 12 pm, while he left the CM house on Monday around 11:30 pm.
Questioning the authenticity of Chief Secretary's statement he said, "In the MLC report it is clearly mentioned that the alleged assault happened around 12 pm while he left the CM house around 11:30."

He raised these questions while showing the medical report of the Chief Secretary Anshu Prakash at party office on Wednesday but did not share the copy of the report with the media persons.
Later, AAP minister Imran Hussain and his staff Sahil Arora who was manhandled and thrashed in the secretariat yesterday also broke their silence. Minister Imran Hussain said, "When I was on way to office some of the staffs detained us, broke my mobile phone and when Sahil tried to save me, the mob thrashed him."
"We have met with LG, Anil Baijal and showed all the reports and videos. He assured for action against the attackers," Imran added.