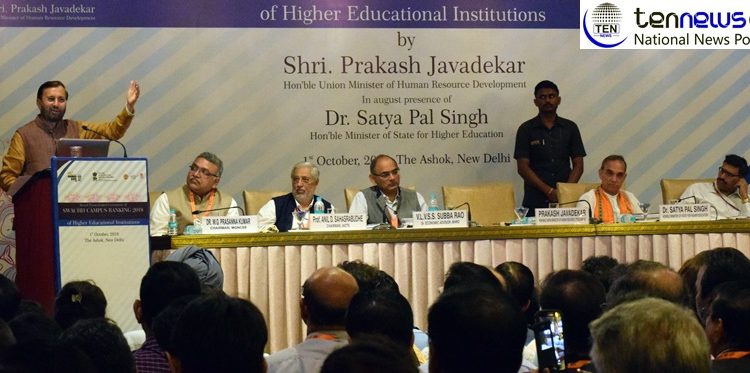 MHRD Felicitates Higher Educational Institutions at Annual Swachhata Rankings Awards!
Prerit Chauhan (Photo/Video) By Lokesh Goswami Ten News Delhi :
New Delhi: The Ministry of Human Resources Development (MHRD) on Monday felicitated People who have contributed for the cleanest and most hygienic higher educational institutions across India. The Annual Swachhata Rankings Awards for the cleanest and most hygienic higher educational institutions is an exercise to rank Higher Educational Institutions on the basis of cleanliness and hygiene.

Chief Guest Prakash Javadekar, Minister of Human Resource Development and
Guest of Honour Dr. Satya Pal Singh
Minister of State for HRD distributed the Awards to the educational institutions at Ashoka Hotel in New Delhi.

MoS, Higher Education, Satya Pal Singh Addressing the gathering at the Swachhata Rankings Awards function said,
"The meaning of education is cleanliness. In 1992 when I went to Japan, with the Japanese delegation we reached tokyo. When we parked our car, the Japnese Delegate who was taking care of us smoked a cigarette from one hand and had a ash tray in other hand. When i asked him why you are carrying a ash tray in parking specially . He said i can't make my country dirty."

He Further said, "The Swachhta Mission enthusiastically observed by Universities and Higher Educational Institutions
has yielded very fruitful results both in campus and off campus. More and more educational institutions are applying for Swachhta Rankings, which shows the growing awareness among people."
HRD Minister,Prakash Javdekar talking on the importance of Swachhata in all aspects, said,
"There is festival going on for Swachhta. We will be celebrating cleanliness festival from tomorrow towards onwards to mark Mahatma Gandhi ji Anniversary. 'Healthy India can not be healty without clean india'. In 4 years nine crore toilets have been built. No doubt earlier toilets used to be built but not in this speed. There is behavior change. I am pleased to observe that the Swachhata Mission has been embraced by our Higher Educational Institutions and their efforts at both in campus & off campus hygiene have gone up in leaps and bounds."
"This is reflected in the fact that this year's Swachhata Rankings exercise has seen more than double the number of institutions applying, compared to last year. I am happy to note that of these 6029 institutions, 2430 have installed solar power in their campuses and 940 are in progress," added Javedkar.
The list of winners of the Swachhata Rankings Awards for Higher Education Institutions: