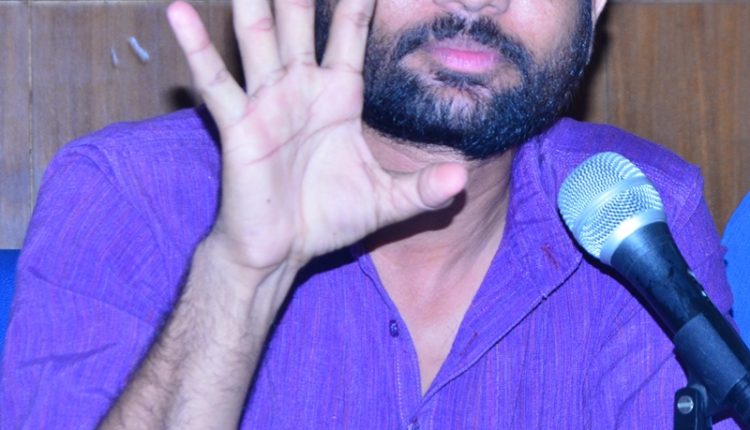 New Delhi: "The prevailing situation of Dalits in the country is nothing less than emergency. They are being attacked, intentionally targeted; government is framing false cases against them", alleged Dalit leader and MLA Jignesh Mevani in Delhi today. He also demanded to impeach both the judges who gave the ruling of reportedly diluting SC/ST and assure SC/ST community for the protection before the birth anniversary of BR Ambedkar on April 14.
To discuss the roadmap to fight against the Supreme Court's ruling in which the apex court strikes down the immediate arrest of the accused under SC/ ST atrocities Act 1989, Dalit leaders and Supreme Court lawyers hold a press conference in Delhi.
Speaking on the event, Mevani said, "All the MPs, MLAs, who won on SC/ST seats have to build pressure on Union government to impeach both the judges A.K. Goel and U.U. Lalit who gave the ruling on SC/ST atrocities act. Moreover, they also press government to pass a bill if the SC rejects the review petition in SC/ST atrocities act. If they fail to do so because of fearing backlash by the party they should resign."
He further said, "Even after violence and 11 deaths, Prime Minister Modi who always branded himself as a BR Ambedkar's follower and supporter of SC/ST is still quite. On which ground he will celebrate the birth anniversary of Abmedkar?"

Speaking on the April 2, violence where 11 men died in the violence, he said, "The processions of dalits were suppressed by police and attacked by Bajrang Dal, VHP goons."
After the April 2 incident, the protestors are being targeted. More than 10,000 cases have been registered against the Dalits till date and arresting is on. "Those who were active in dalit movements are being targeted and false cases are being farmed against them," said Mewani adding that government immediately withdrawn all the cases filed against dalit youths or activist.
We are going to meet with the President of India to and will give a memorandum to meet our demands. "If government did not agree to our demands we will hold a nation-wide protest." Mewani asserted.

Later, the issue slew of demands —
1. To protect the Dalits, Adivasis and Weaker Sections of society from the adverse effects of recent decision of the Supreme Court on SC/ST Act, an ordinance may be promulgated by GOI to nullify it.
2. The cases registered against Dalits, Adivasis and Weaker Sections of society pertaining to Bharat Bandh on 2nd April should be withdrawn, they should be released and torture at the police stations should stop. A compensation of 20 lacs should be given to the kith and kilns of 11 Dalits killed during the Bandh. The state government may be directed accordingly.