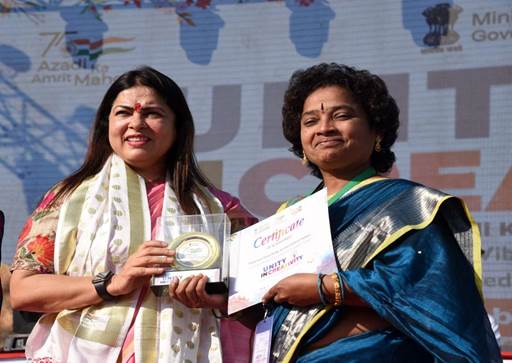 New Delhi (06/02/2023): Ministry of Culture presented awards for the winners of Unity in Creativity Competition in a celebration filled with art, culture, and music. The event was organised under the aegis of Azadi Ka Amrit Mahotsav on 5th February at Nehru Park, New Delhi.

The event was graced by the presence of Arjun Ram Meghwal, Minister of State for Parliamentary Affairs & Culture, Meenakshi Lekhi, Minister of State for External Affairs and Culture and dignitaries from Ministry of Culture.
On the occasion Meenakashi Lekhi said that Ministry of Culture has done a tremendous task by organizing this competition as it is a step towards preserving our culture and intangible heritage. She also added that  India's culture and heritage is alive even today as it passed from generation to generation through mediums such as storytelling.
On the occasion Arjun Ram Meghwal congratulated all the winners the competition and said that creativity can take the message of Unity forward.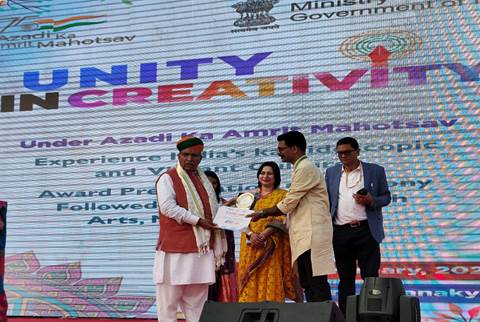 Beginning on 31st October 2021, Unity in Creativity competitions garnered over 5.6 Lakh entries from over 600 districts. Entries for Deshbhakti Geet Writing were received in 21 languages, and in 20 different languages for Lori writing. Thousands of Rangoli entries depicted scenes and heroes from India's freedom struggle, along with symbols of national importance. Winners came  from various corners of the country and enjoyed the felicitation programme. A grand total of 4760 winners were selected for the three competitions on national, state and district levels.
Apart from the award ceremony, the event witnessed multiple exhilarating cultural performances by music bands from Mizoram and Manipur, a special performance by Nathu Lal Solanki and group from Rajasthan, as well as Maniyara Dandiya Folk Dance of Gujarat. Lambadi and Mathuri folk dances of Telangana brought out the beauty of India's diversity. Popular folk singer Maithili Thakur gave a scintillating performance with songs of patriotic fervor. Audience were delighted by a medley composed by Sangeet Natak Akademi that left people mesmerised. The lyrics of this medley were taken from winning entries of Deshbhakti Geet Writing and Lori Writing competition from pan India. Titled as Nrityarupa, a choreographed dance presentation by Sangeet Natak Akademi showcased the classical dances of India on stage.
Event was wrapped uo with Mayur Dance from Uttar Pradesh which depicted the colours and joy of Holi and the advent of spring.