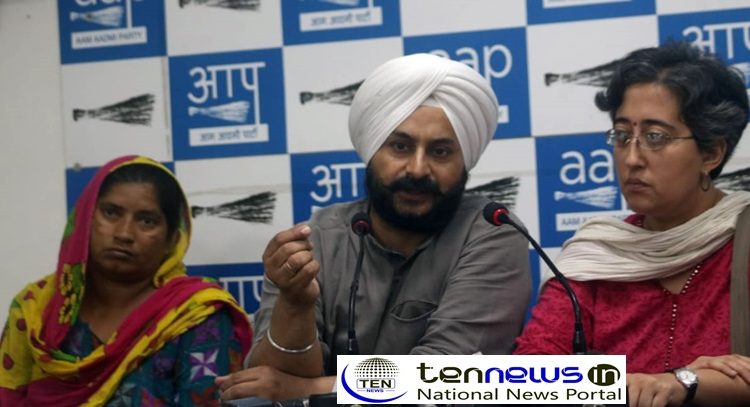 Minor girl suicide in Tilak Vihar police post: AAP says it custodial death, demands suspension of SI
Kashif Hasnain (Photo/Video) By Lokesh Goswami Ten News Delhi :
New Delhi: In the alleged suicide of 17-year-old minor girl at Tilak Vihar police post in west Delhi's Tilak Nagar on Sunday, ruling AAP demanded suspension of outpost in-charge SI Parvesh Kaushik.
On July 15 night, 17-year-old girl committed suicide inside Tilak Vihar police post by hanging herslef in the ceiling fan of a police post where she was locked by police.

Demanding suspension of Tilak Vihar police post in-change SI Parvesh Kaushik AAP claimed it a custodial deaths. "Suspending two constables are not enough. Sheer irregularities have been seen in this matter which led to the death of a minor girl. We demand to suspend the SI on duty," said senior AAP leader Aatishi Marlina while addressing media on Monday.
According to police, on Sunday night the girl went to police station after a scuffle with her family members.
The incident took place hours after the girl's family approached police to report that she and another boy from their neighbourhood had gone missing.
DCP (West) Vijay Kumar told media that police first received a call at 10.30 pm on Saturday regarding a fight between two families over their missing children, following which the girl's family came to the post. Police said the boy's family was also called in. While the girl's family was asked to go home after their complaint was noted, police asked the boy's family to wait.
"We were informed that the girl and the boy disappeared together. At 2.30 am on Sunday, the girl came to the Tilak Vihar police post. She said she doesn't want to go back home as her mother had slapped for talking to the boy. She gave this to us in writing," said the DCP.
Police called the girl's family to the post. While policemen were pacifying both families, the girl went to the rest room and locked the door. "Staff broke open the door and found her hanging from the fan. A judicial inquiry has been ordered and further investigation is on," said Kumar.
However, AAP MLA from Tilak Nagar and mother of the deceased girl claimed that girl and her brothers had been locked by the police in separately.
"She hanged herself when police locked her alone in the room. Seeing hanged from ceiling fan, police personnel rushed from the police post. It is a matter of custodial death." Added Marlina.
"LG and DGP should take responsibility of her death and offenders should be punished," she asserted.
After the incident, outpost in-charge SI Parvesh Kaushikand woman constable Manmohan Kaur have been sent to District lines. Investigating officer ASI Sushil Kumar and duty writer head constable K Badhoriya have also been suspended.