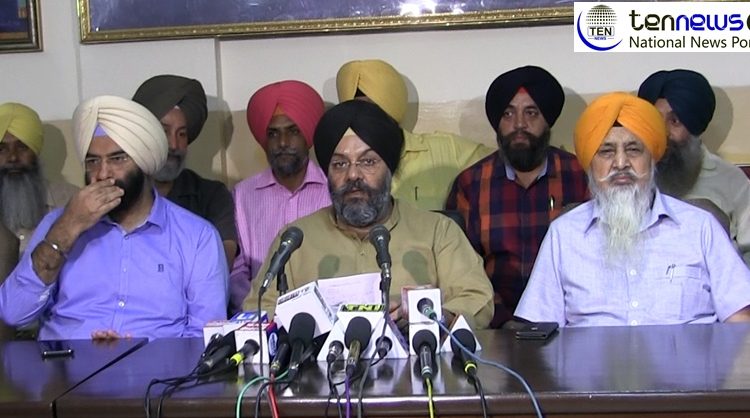 Minority status to Hindu's in Eight States: Akali Dal opposes move, threatens to knock SC door
Kashif Hasnain (Photo/Video) By Lokesh Goswami Ten News Delhi :
New Delhi: Delhi Sikh Gurudwara Management Committee chief Manjit Singh GK on Thursday said that the demand of minority status to Hindus in eight states is against the constitution and Sikh community will opely oppose it.
He said this while addressing media on Thursday in New Delhi.
"Sikh community and Akali Dal is totally against the demand of minority status to Hindus in Punjab. The definition of reservation is already given in article 29, 30 and 350A & B of the constitution and it did not comply on Hindus. We will knock the court's door and minority commission over the issue," Manjit Singh said.

BJP Spokesperson and Supreme Court advocate Ashwini Upadhyay has recently filed a petition in the Supreme Court seeking minority status to Hindus in Jammu & Kashmir, Punjab, Mizoram, Meghalaya, Nagaland, Lakshadweep & Arunchal Pradesh, however, SC has asked to approach minority commission.
The minority commission has formed a committee to look into this matter.
"In 2002, when the Punjab government granted minority status to Punjabi community, who are less than 40% in the state. No sooner the government granted Minority status to us, the matter reached to the court," said GK adding that in 2008, the Supreme Court retained the minority status of Punjabi community in Punjab state but now BJP wants minority status to Hindus in Punjab. It is an effort to snatch our quota.
In questioning tone, he further said, as per article 25 of the constitution Punjabi are Hindu then why BJP leader is demanding minority status in the state. "Punjabi community, Akali Dal is totally against this demand and we will fight for it."