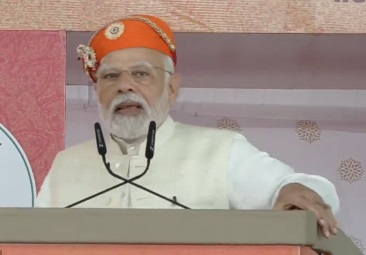 Modi offers prayers at Sanwaliya Seth temple in Rajasthan's Chittorgarh, inaugurates projects worth Rs 7,000 cr (Ld)

Jaipur, Oct 2 (IANS) Prime Minister Narendra Modi on Monday visited Rajasthan's Chittorgarh and offered prayers at the Sanwaliya Seth Temple.
Modi will address a public meeting in the run-up to the upcoming Assembly elections in Rajasthan.
This is Modi's second visit to Rajasthan in last seven days where he also inaugurated and laid the foundation stone of nine development projects worth Rs 7,000 crore.
Speaking on the occasion, the Prime Minister said, "A huge emphasis has been given on the development of railway and road routes in Rajasthan."
Rehearsals were conducted from the temple to the meeting venue regarding the security of the Prime Minister. A temporary helipad has also been built.
Modi virtually inaugurated the permanent campus of Pali Hanumangarh section of Mehsana-Bathinda Gas Pipeline Project, Indian Oil Corporation's LPG bottling plant in Ajmer, Hindustan Petroleum's LPG plant in Abu Road, development of tourism facilities in Nathdwara under the Swadesh Darshan Scheme, four-lane road constructed on Dara-Jhalawar Tindhar section on National Highway-52, doubling of Chittorgarh-Neemuch railway line, electrification of Chittorgarh-Kota railway line, among others.
Earlier, Modi had visited Chittorgarh on April 21, 2019.
In the public meeting being held on Monday, nearly 2,200 buses and 7,000 other vehicles from all over Mewar will reach Mandafia. Around 20,000 women are also expected to attend this meeting.
Chittorgarh is the parliamentary constituency of Rajasthan BJP President C.P. Joshi.
–IANS
arc/khz