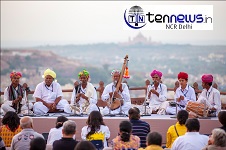 Musical divinity, an inch closer at Jodhpur RIFF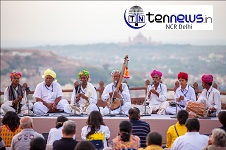 Musical divinity, an inch closer at Jodhpur RIFF
Artists from world over will perform at the festival from October 13 to17
New Delhi, 17 August:When the brightest full moon of the year will rise above its majestic walls, Jodhpur's Mehrangarh Fort will come to life with the heartfelt warmth of roots music from across the world – at Jodhpur RIFF 2016!

Acknowledged as being among one of the most interesting music festivals in the world, Jodhpur RIFF is an enriching experience of rustic Rajasthani music in amalgamation with global roots music, in a royal settingwith the blue city of Jodhpuras the stunningbackdrop- all under a vast, moonlit sky. For many years now, Jodhpur RIFF has been like a musical pilgrimage attracting top-notch artists and connoisseurs of music alike. Basking in the serenity and vibrancy of melodies coming from the many corners of the fort, the century old Mehrangarh fort of Jodhpur resonates with soul-stirring music for five days, from dawn to dusk. From calm folk classical mornings to club nights, Jodhpur RIFF has it all.
Jodhpur RIFF is an international platform for the folk musicians of Rajasthan. It gives them an opportunity to showcase their amazing, generations-old repertoire. It introduces them and its audiences to incredible roots musicians from across the world, creating a genere-independent experience. The result of the confluence is a rare, mesmerizingtreat for music aficionados – unlike any onther music festival in the country. Over two-hundred fifty Rajasthani musicians and a hundred others participate in the festival. Jodhpur RIFF also provides an opportunity to witness rare Rajasthani folk instruments, meet and interact with legendary masters of the folk traditions and encounter some wonderful musicians at dawn and dusk….all in all, Jodhpur RIFF makes for a brilliant musical experience.
Speaking on the significance of Jodhpur RIFF, the Patron of the festival HH Maharaja Gaj Singh II of Marwar-Jodhpur said,"The Rajasthani folk musicans are at the core of Jodhpur RIFF. It is important that they feel a sense of pride and dignity, a sense of home and are able to present what their peers and elders consider authentic. At the same time, they realise that there are opportunities for them as artists in their own right – to create and to collaborate with exemplary musicians from across Rajasthan and around the world. And Jodhpur RIFF gives them both… this is why festivals like Jodhpur RIFF are important."
Jodhpur RIFF presents glimpses of the immense repertoire and varied skills of its musicians throughout the festival through a customary set of different musical series. Experience the soul of Rajasthan in the tranquility of the Dawn Concerts and the magic of the Desert Lounge at RaoJodha Park (full moonlit, acoustic, midnight gala to go on till the wee hours of the morning).Started as an experiment, the Dessert Lounge has become a roaring success because of the natural setting. The festival concludes in style with RIFF Rustle– the largest impromptu collaboration of artistsperforming at the festival. Every year, the festival appoints an artist as the 'rustler', who rustles up musicians from the festival to participate in this performance in pairs, quartets, or altogether.Apart from the customary performances, this year's Jodhpur RIFF will bring the traditional storytelling forms of Rajasthan and their links to music under the aegis of its "Interactive Session" series. It will also introduce audiences to the Wind Instruments of Rajasthan – from the Algoza to the Narh, the Shehnai and Morchang to the Murla/Murli.
The director of the festival Divya Bhatia elaborates-"There are some new aspects to the festival this year, such as storytelling and some workshops, details of which will be announce closer to the festival. We try and bring in a new cultural or musical element or two, every year. It keeps us on our toes and keeps the festival fresh for the repeat visitors. As we enter our 10th year, we feel really confident that we can continue to innovate and experiment, and bring about the best that Rajasthani folk has to offer, along with some of the most exceptional artists of the world."
Highlights of the festival:
The Legendary Musicians Of Rajasthan
Jodhpur RIFF 2016 presents hundreds of Rajasthani artists… among them, four legends of Rajasthani music are presented in its special "Living Legends" series. Lakha Khan Mangainyar and Kadar Khan Langa (Sindhi Sarangi and vocals), Pempa Khan Manganiyar (Shehnai and Murli), and Sawan Khan Manganiyar (Sufi). Much revered by their communities as well as musicians across Rajasthan and the world, these artistswill present some of their best work, rarely herd or performed live. Other legends include Chiranji Lalji and Shamsuddin(Maand), stunning vocalist Anwar Khan Manganiyar(presenting Dada-Dadike gaane/ songs of my grandparents), master musicians of the Kamaycha Ghewar and Darra Khan Manganiyar and many others. Among the younger artists, Jodhpur RIFF will see the new DhunDhoragroup as well as young masters like Asin Langa and ButtaManganiyar in concert.
JayateerthMevundiin Concert
One of the finest vocalists to emerge from the Kirana Gharana of Dharwar region, Jayateerth Mevundi is a master in the Santvaani (words of the saints) and Daasavani (words of the devotee) musical traditions of Karnataka and Maharashtra. His artistry has been acknowledged through awards including the 'Swar Bhaskar Puraskar'-the first ever award given in the name of Bharat Ratna Pt. Bhimsen Joshi.
Sondorgo
(Pronounced Shoendoergoe) is a fantastic band from the interiors of Hungary, playing lesser known,traditional and popular tunes of the Serb-Croatian communities living along the Danube, coupled with gypsy and Balkan tracks from elsewhere. Not surprisingly, they play 17 instruments among themand styles of music that are hugely attractive, but little known and quite different to the traditional Hungarian repertoire.Blazing a hot trail through the gypsy/world music scene in Europe, Sondorgo presents a remarkable collection of foot tapping and melodious music.
Davy Sicard in concert
Originally from the remote island of La Reunion, but now based in France, Davy's music is sourced from the Reunion is a folk form 'Maloya' which is a unique amalgamation of African slave chants and rhythms, unique traditional instruments, plus contemporary European instruments.
The special ingredient in this case is Davy's beautiful voice which glides across the music like a scrumptious coating, pure sweet and expressive. A master of modern 'Maloya', Davy Sicard's music is all about universal themes such asslavery and reunion.His songs weave a powerful thread between the ancient world and today's modernity with his particular brand of live energy on stage.
Robust– a Jodhpur RIFF special
A Jodhpur RIFF percussion special featuringmaster percussionists of Rajasthan in collaboration with Ben Walsh. Ben is celebrated as one of Australia's most accomplished percussionists and performers. He has earned himself a phenomenal reputation internationally and abroad for his skill, mastery and innovation. Here, for the first time, he meets up with a dozen or more Rajasthani master percussionists – on the dholak, the khartal, the morchang, the dhol…
Maru Tarang(Ripples of the desert)
It's a sensational Australian-Rajasthani music collaboration…Jeff Lang (lap steel slide guitar, vocals) and Bobby Singh (tabla) from Australia; Asin Langa (sarangi, vocals) and Bhungar Manganiyar (khartal) from Rajasthan…Robert Johnson blues meets Rajasthani songs of love and loss… At Jodhpur RIFF 2016,Maru Tarang presents work from their first album "Blue City" and give us a sneak peak into their still-to-be released new one to come out later this year. Maru Tarang come to India after a series of spectacular performances at Celtic Connections (Scotland); WOMEX Showcase (Galicia, Spain); Woodford Folk Festival, Sydney Festival, Perth Festival, Paramasala, Nightjar Festival, Port Ferry Folk Festival (Australia) among others.
Bixiga 70 in concert
Bixiga 70 is as one of the most widely sought after groups in contemporary instrumental music in Brazil. These talented musicians together produce a contemporary sound that mixes Brazilian and African influences, including Samba, Reggae with a little electronica, carimbó and ethio-jazz. Other elements pulled from the travels of Bixiga's ten members include- Cumbia from Colombia, Malinké drumming from Guinea and Cuban blaxploitation riffs.
Fundamentally though it's the horns that dictate the pace, and this is where FelaKuti's Yoruba influence is most obvious. The horns on can blast out with serious swagger. A tight backing of trombones and saxophones give irresistible danceability. If FelaKuti would probably look to the horns as a litmus test of Afrobeat quality, in this regard Bixiga 70 shoot off the scale.
(Indian Premiere)
Bookings:
The online bookings for festival passes will begin from 1stth September, 2016, at www.jodhpurriff.org
Early bird discount of 20% will be available till 21st September, 2016.
For further updates on Jodhpur RIFF 2016, please visit our Facebook page:
www.facebook.com/JodhpurRIFF/
Note to the Editors:
Jodhpur RIFF is a not-for-profit project led by the Mehrangarh Museum Trust, Jodhpur. It was originally a joint initiative of the Mehrangarh Museum Trust and Jaipur Virasat Foundation.
The festival has been endorsed by UNESCO as a "Peoples' Platform for Creativity and Sustainable Development."
HH Gaj Singh II of Marwar-Jodhpur is the Chief Patron.Sir Mick Jagger of The Rolling Stones is the International Patron of Jodhpur RIFF. Faith Singh, founder of Anokhi and the Jaipur Virasat Foundation is also patron of Jodhpur RIFF.
Timed every year to coincide with "Sharad Purnima", the brightest full moon of the year in north India, Jodhpur RIFF features a series of spectacular concerts and events based in and around Mehrangarh Fort.