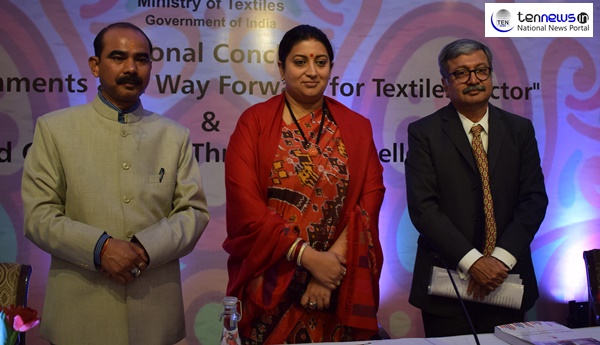 National Conclave by Textile Ministry celebrates exponential boost in the sector, brainstorms over issues
VISHAL MALOHTRA / JITENDER PAL - TEN NEWS ( 06/01/2019)
New Delhi (06/01/2019) : Prime Minister Narendra Modi once said that "Based on the Make in India initiative, the organised textile industry is being infused with the mantras of 'skill, scale, speed' and 'zero-defect, zero-effect' for scaling up environment, production and exports."
In line with this vision, a National Conference on Textiles industry in India was held in the national capital on Sunday.
Minister of Textile Smriti Irani inaugurated the session and said, "Today's competitive world demands quick-time response in shaping initiatives to address the challenges of growth and converting them into opportunities. To this end, the Ministry of Textiles has been working relentlessly to ensure a conductive policy environment, facilitating enabling conditions for the industry and private entrepreneurs to set up units through its various policy initiatives and schemes."
The session started with the release of a book named "Market for textiles and clothing – National Household Survey".
The event was also graced by Vice President of India Venkaiah Naidu.
Panel discussions that happened while the 'One-day National Textile Conclave' were appreciated by every successful personnel from the Indian textile world.
Speaking to Ten News, Executive Director of Export Promotion Council for Handicrafts (EPCH) Rakesh Kumar said,
"The outreach programme being organised by Ministry of Textile is certainly a very great step. This is gonna help lot of organisations to move forward in textile industries. In fact, the entire textile sector has seen constant growth rather then a global slow-down within the past 4 years. The way forward is surely going to be systematic as government has already planned various steps that is to be taken up in the coming years."
At a Panel Discussion which was about Technical Textiles, VK Sarsawat from NITI Aayog said,
"Jugaad is a term that industrialists commonly used these days but when we talk about 'Technical Textiles' then it is something that can't be related with the term 'Jugaad' as technical textiles needs real effort to develop any fibre or textiles. Today, research is the main demand for clarifying the quality of work carried out by various textile manufacturers."
A discussion session named 'Hastkala – Celebration of tradition' was all about the handicraft works in India.
A handicraft, sometimes more precisely expressed as artistic handicraft or handmade product, is any of a wide variety of types of work where useful and decorative objects are made completely by hand or by using only simple tools.
Speaking in the session, OP Prahladka who is the Chairman of Export Promotion Council for Handicrafts (EPCH) said,
"We celebrate everyday. The craftsmen and entrepreneur in our offices which are located all over the country accomplish something good everyday and the main faces of company are always present to join them in the celebrations everyday, every hour and every minute which make us little different. In the last three decades, we have seen a tremendous change in the textile sector. The sector has grown with a threshold speed in the past few years. The exports of handicrafts which was around 387 Cr, has now touched the border of 25,000 Cr.