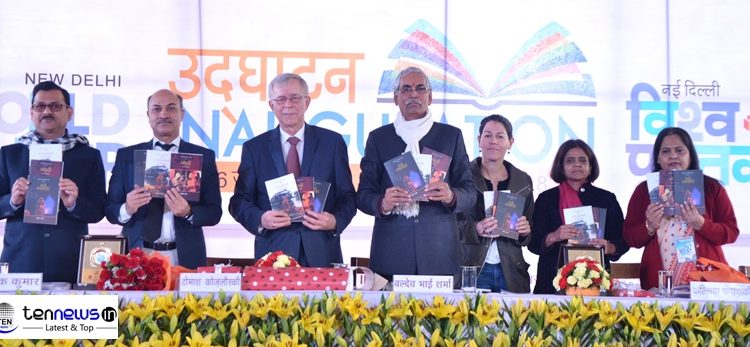 New Delhi World Book Fair 2018 Opens at Pragati Maidan Today!
PRERIT CHAUHAN (PHOTO/VIDEO BY SAURABH SHRIVASTAVA)
New Delhi: On Saturday in the presence of publishers from India and abroad, book lovers, dignitaries from government, diplomatic community and literary world, the New Delhi World Book Fair was, being inaugurated. The Fair will be held from 6-14 January 2018 and brings to you a fortnight of book conversations, workshops, discussions, book releases, B2B forums cultural programmes and some of the most newand exciting writings. For the Indian publishing industry, that has seen a steady growth, the Fair further provides a unique business opportunity and an ideal venue for promoting new, titles, exchange of copyrights and other co-publishing arrangements.
The nine-day literary extravaganza will see participation from over 32 well-known,authors publishers, and illustrators from the EU. The EU along with its participating Member States will organize over 35 events comprising book readings, workshops for children, debates, panel discussions, book launches, poetry and translation slams.
Baldeo Bhai Sharma, Chairman, NBT at Inauguration Said, "This year more than 800 publishers are participating in the Fair. During the fair, several programmes basedon the theme will be organized such as folk songs, musical renderings, panel discussions, workshops among others. In the theme pavilion, more than 500 books in different languages would be displayed. Besides, this year children s pavilion will be a special feature in which several programmes will be organized to make children aware about the need to protect environment."
Key Features and Guest of Honour:
This year the European Union is the Guest of Honour at the Fair. Over twenty countries from across the European Union will participate with a delegation of publishers, editors and authors. Besides, the European Union pavilion will showcase some of the latest publications in English and other European languages, panel discussions, talks, special photo exhibits as well as cultural and musical performances.
Programme Theme:
With Environment and Climate Change as the theme of this year's WBF the EU will took opportunity to discuss urgent global Issues pertaining to Sustainability. With over a million footfalls, the New Delhi World Book Fair can contribute to creating awareness, openness and change society. The theme for the EU pavilion, accordingly, Is READ, LEARN and CHANGE.