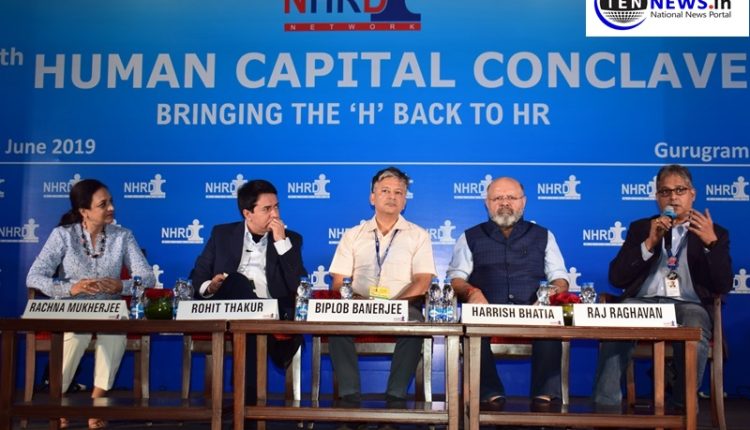 New Delhi, (28/6/2019): The National HRD Network (NHRD) organized its 7th Human Capital Conclave on Bringing the 'H' back to the 'HR'. The conclave took place at Leela Ambience Hotel in Gurugram, where eminent personalities from the Human Resource (HR) field participated. The conclave highlighted on the 'Human Factor' in recruiting a candidate for a company or organization.
The conclave started with lighting the lamp and inaugural address by the Director of the Conclave Anand Pillai.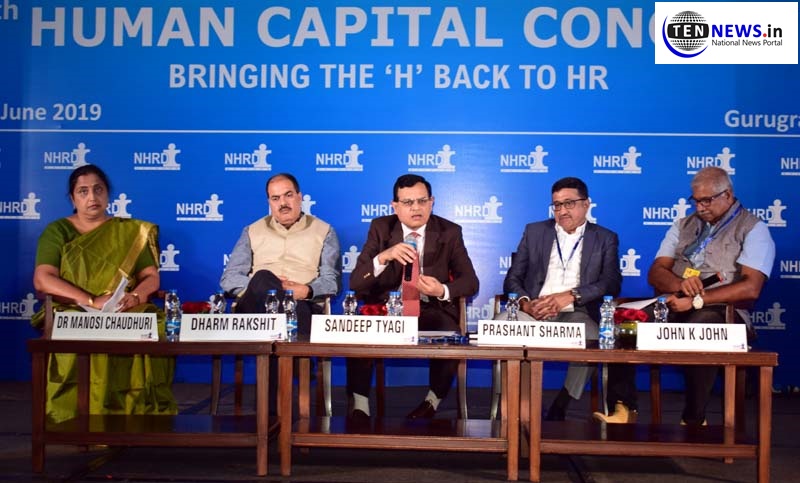 In his address he focused on technology taking place of humans in HR. He said, "HR is the god for the candidate, because he is the source of getting his desired job. And Human factor in this relationship plays vital role. Technology is gaining importance at a fast pace but without human interaction you can not understand what a person's mindset is and about how he will be beneficial for the organization".
The event further saw panel discussion on Bringing back the H in Talent acquisition, Talent Development, and Talent Engagement.
The first session Bringing back the H in Talent Acquisition was attended by Rachna Mukherjee, CHRO, Schneider Electric, Harrish Bhatia, President- Sales & Marketing, Dainik Bhaskar Group, Rohit Thakur, Head, HR, Accenture and Raj Raghavan, Sr. Vice President HR, Indigo Airlines, as the panelists.
In the session it was discussed that, to identify the best person for the job, you need to consider all of the candidate's skills, experience and moat importantly, their potential. You'll never get this wealth of data from a simple CV or LinkedIn profile. You have to meet the person to understand about his needs and his skills required by the company.
Rachna Mukherjee at the panel discussion said, "We have doctors and we treat them like gods, we share every problem occuring with them. But when it started it is about telling someone about oneself condition. The HR is the same thing in understanding people and giving them what they want and need. Technology is playing an important role however personal interaction gives you the feel of what the candidate wants and help in understanding the candidate properly. When i look at a candidate i find what is his learning ability. What they have learned from failures or winnings. This is the element i look in a candidate. You cannot just do away with the H factor to understand about the candidate and making the decision".
Rohit Thakur, said, "Our first job recruiter is god at that time. But in HR is was misunderstood by some people that HR is having power but in reality the interviewee is having more power as he can reject your offer anytime. Putting candidate in the centre is very important in talent acquisition. When we mix AI and human it will gain in profits."
Harrish Bhatia, said, "AI can give a lot of help, as it takes 20 secs to scan a resume. But without meeting in person, it is difficult to understand how a person is. There are many tools to represent yourself falsely, but in personal interaction you can understand about the behaviour of the candidate, what he is in real".
Raj Raghavan, said, "When American automobiles are struggling to match Japanese automobiles. US brought patents right and forced Japanese manufacturers to manufacture in America and sell. Toyota started manufacturing in the same plant, the General Motors have shut down, and in 2 years that plant started earning profit. Toyota was different in treating people. Technology is important but people make those technologies important. It does not matter how much money you have, if you dont have a right skill to interact to your employees and to the customers, you can never build trust".
The second session focused on Bringing the H back in Talent Development and it was discussed that, how important it is now to increase the use of H factor in the hiring process. 22% of enterprises are using artificial intelligence for talent programs, and these early adopters are more effective in every area of hiring, retention, and Diversity & Inclusion operations than their peers. But we are missing the H factor.
The third session focused on Talent Engagement and it was discussed that, how to keep an employee engaged! HR professionals may offer varied definitions of an engaged employee. A common feature among these definitions is that engaged employees are enthusiastic and passionate, willing to go the extra mile to initiate change and contribute to the growth of the organization. They assign meaning and purpose to their jobs and rely on these jobs to fulfill their purpose.
While speaking to Ten News, Professor and HR Head of BIMTECH, Dr. Manosi Chaudhuri said, "the importance of H factor in Talent engagement is as important as in other aspects of talent hiring. In todays world technology is taking over in everything, it is helping in making the process less complex and also enhancing the efficiency of the hiring process. But without the human factor you cannot feel the candidate. Without meeting him it is almost impossible to understand his personality. Like in engagement, it is more important to maintain a relation with the employee directly without any technology".