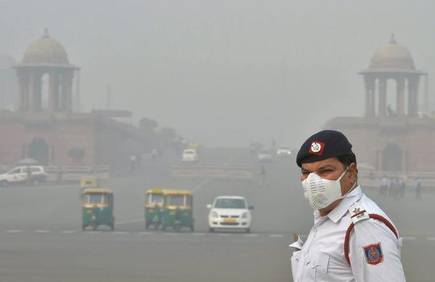 Night Curfews at Delhi Airport will Control Rising Pollution, suggests citizen organisation chief
Ten News Network
New Delhi, 8 November 2022: While the governments and environmentalists are holding vehicular pollution responsible for degrading the environment in the national capital, many environmentalists attribute different reasons behind the acute pollution.

The Air Quality Index of New Delhi has reached 434 which is deemed hazardous.
In view of the increasing pollution, Anil Sood, President, SP Chetna has raised concerns about the need to assess gaseous emissions and pollution caused by aviation.
"We have collected data on the CO2 emissions and observed that the OECD estimate shows that domestic airlines in India generate 1,566,060 tonnes of CO2 equiv in September 2022. This shows that domestic flights during 2022 (April to Sept) from Delhi Airport were 1,68,184 out of a total of 10,36,033 or roughly 16.2% of all India domestic flights. Hence, carbon emissions for Delhi Airport for the month of Sept 2022 are 16.2% of 15,66,060 or approx 2,50,000 tonnes," Sood said.
This is a very big quantity which is often ignored by all the departments.
The vehicles and automobiles are hence entirely blamed for causing pollution, he added.
Anil Sood further clarifies that the maximum noise and air pollution are caused by the aircraft in the landing funnel having a distance of 10 KM from the Airport reference point.
Therefore, as per trailing mail since neither DPCC nor the Project Proponents despite being aware of the humongous pollution caused by Aircraft in the landing funnel have concealed the fact of ongoing litigation before NGT and huge pollution caused both within the airport and outside Airport.
Talking about the approval for the fourth runway in the Delhi airport, he stated that they have conveniently ignored their own manual while granting the EC to the fourth runway, which smacks nothing else but corruption be it moral, ethical if not financial as they all were bound by their own manual and relevant information should have been asked for before granting EC, which has not been done.
"The mysterious silence and concealment of material facts and not collecting information mandatorily required and granting EC is a serious fraud played on the citizens living under the landing funnel of Delhi International Airport, causing an immense health hazard to them and denial of their fundamental right to sleep and health," he added.
SP Chetna President continued to reason that to combat and control the situation to a certain extent, night curfews may prove to be effective. "It may not be out of place to mention here that out of 555 international airports as per ICAO report, attached herewith, 402 Airports have imposed night curfew," he said.
He also criticised the authorities for the ineffective and inefficient system, "Keeping in view citizens' health, the project of the 3rd Runway at Heathrow Airport was quashed. Even when Gatwick airport having one runway can handle 1560 flights per day with a night curfew. Why is there congestion despite having 3 runways without a night curfew? This means a totally casual and careless unprofessional attitude of the Statutory Authorities and the Operator."
He further questioned what prevented the airport operator from collecting and recovering a noise fee from airlines in order to insulate residences and institutions that fall under the landing funnel in addition to the way Heathrow airport insulates apartments?
Sood insisted the government take accountability and answer the people, why they are holding cars responsible when the source of pollution is somebody else. In case no action is taken by you all, we shall be left with no other alternative but to proceed against you all at your risks and costs, which may be noted.
He also urged the Delhi LG VK Saxena that there is an urgent need to follow international practices of imposing a night curfew to allow mother nature to recoup.
"This is the precise reason why despite taking all steps pollution in Capital City continues to increase and citizens continue to suffer. The city is suffering from huge pollution caused by aviation, which, as per MOEF & CC Manual mingles with normal city pollution and is treated as Pollution caused by diesel cars which is factually incorrect. It is a matter of fact that one passenger seat of Airbus generates pollution equivalent to 2 cars, which goes unassessed and unaddressed and the Govt is punishing ordinary citizens for no fault on their part," Anil Sood stated.
He also wrote to the Director, CAQM (Commission for Air Quality Management), "You have appointed two persons, one from IIT Kanpur who has filed a wrong report, in our possession, stating that aviation pollution does not pollute Delhi, which goes up in the upper atmosphere and another from CSE, the organisation despite claiming to be experts on environmental issues continue to bat against Diesel Cars but does not utter a word about pollution by Aviation.
As a result, it is clear that the GRAP procedures are being conducted with a tainted perspective. In response to our submissions made via email on January 7, 2022, they did not answer, he stated.