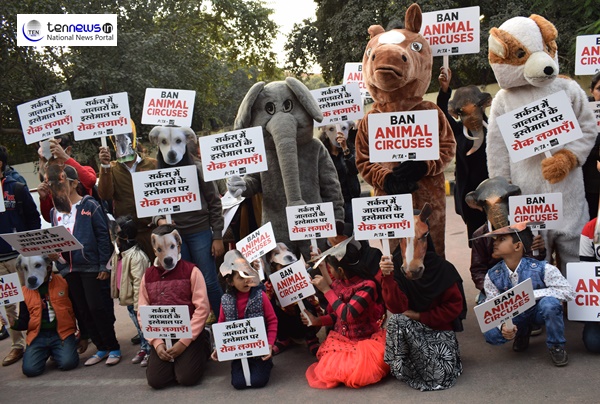 New Delhi : ( 15/12/18) Accompanied by people dressed as animals, parents, children and others – all supporters of the People for the Ethical Treatment of animals (PETA) India and Federation of Indian Animal Protection Organizations (FIAPO) wore masks on their faces, silently protested for the ban on use of animals in Circus.
Animals in circuses are routinely chained, beaten, and dented everyday, it is indeed considered that its natural and important to them — all for cheap tricks," says PETA India Associate Director Nikunj.
"A ban on the use of animals in circuses would bring India in line with other countries that have already made this move and show the world that this is a progressive, compassionate nation that won't tolerate animal abuse." he added.
Since 2015, because of the efforts of PETA India, and other animal-protection groups, more than 100 animals — including 15 captive elephants and many horses, camels, dogs, and birds — have been rescued and rehabilitated with the help of the police and forest departments and taken to sanctuaries, including those supported by PETA India.
In its efforts to end the use of animals in circuses, PETA India has petitioned the MoEF&CC, worked with government regulatory bodies such as the Animal Welfare Board of India and the Central, Zoo Authority, engaged in litigation, organised demonstrations and social campaigns, elicited help from celebrities, and held street-theatre performances.
The fight is still on and a ruling in this regard is awaited.