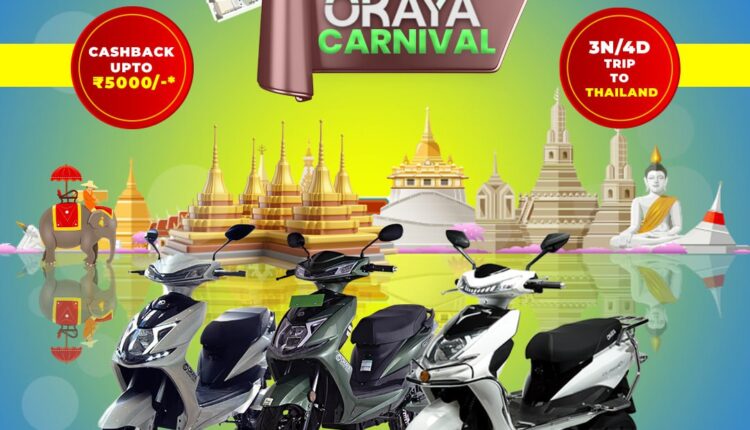 Okaya EV Announces Exciting March Offers: Win a trip to Thailand or assured cashback up to INR 5000

New Delhi, 13th March 2023: Okaya EV, India's fastest growing electric vehicle brand, has announced, "Okaya Carnival" for its valued customers. With every purchase of an Okaya e-scooter, customers can win exciting prizes, including an assured cashback of INR 5000/4000/3000/2000/1000 or a 3-night/4-day trip to Thailand for one person.
The Okaya Carnival offer is applicable to all Okaya e-scooters until March 31, 2023, and customers can participate by purchasing an Okaya e-scooter from any Okaya dealer across the country. After purchasing an Okaya EV, the customer will receive a link on their registered phone number and will need to submit the required details. The customer will then receive a scratch card that will reveal their prize. Okaya Electric Vehicles offers both low speed and high speed scooters in six refreshing colors:-; Metallic Black, Metallic Cyan, Matte Green, Metallic Grey, Metallic Silver, and Metallic White.
Okaya EV Scooters:
Faast F4 is the fast electric scooter available at a starting price of INR 1,13,999 (ex-showroom)  in India. It is equipped with exciting features such as Keyless entry, Motor Lock W/ Remote, Digital Instrument Cluster, Reverse and Walk Assist, etc. A performance-packed e-Scooter Okaya Faast F4 offers 3 speed modes. With blazing top speed of 70 km/hour, it offers the range of 140-160 km per charge. Okaya Faast generates Peak Power of 2500W from its motor. It has a combi-braking system with 12″ tubeless tires. It is studded with 2 batteries, giving total output of 4.4 kWh.
Faast F3, priced at INR 99,999 (ex-showroom) offers an exceptional range of 125 Km on a single charge, is waterproof and dust-resistant and has a maximum speed of 70Km based upon loading capacity. scooter is powered by a 1200W motor delivering peak power of 2500W, along with 3.53 kWh Li-ion LFP Dual batteries with switchable technology to extend battery life. It takes around 4-5 hours to get fully charged. The scooter comes with a 3-year warranty on the battery and motor.
Faast F2F is powered by 800W-BLDC-Hub Motor, paired with 60V36Ah (2.2 kWh) Lithium ION – LFP battery that meets the highest safety standards, and comes with a 2-year warranty on the battery and motor. With remarkable range of 70–80 km on a single charge and a top speed of 55 km/h priced at INR 83,999 (ex-showroom)
ClassIQ+ has 25kmph top speed with a riding range of 60-70km per charge and it's available at starting price of INR 74,500. It generates 250W power from its BLDC hub motor, and its charging time is: 4-5 hours.
Freedum on the other hand is offered at a starting price of INR 74,900 in India, in five different colors: Midnight Black, Military Green, Tantalizing Blue, Pearl White and Fiery Red. It also generates 250w power from its motor and its riding range is 70-75km per charge.
Okaya Faast F2B is available at a starting price of INR 89,999 in India. It generates Peak Power of 2500W power from its motor and is powered by a 1.2kW motor mated to a 2.2kWh battery. It offers 70-80 km maximum range.