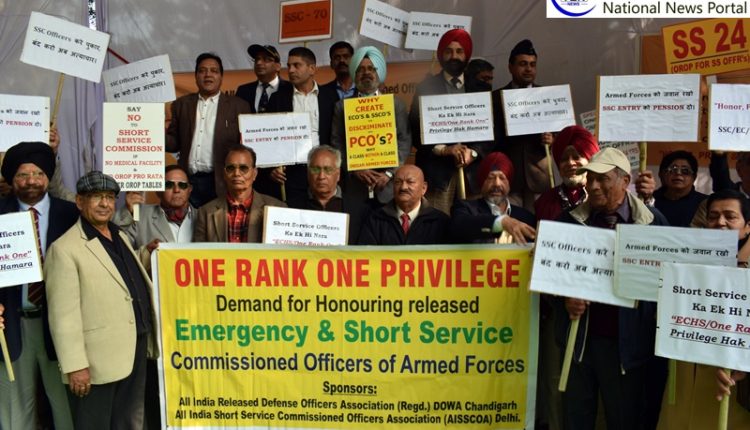 OROP: Ex SSC Officers including veterans of 1965, 71 & 99 wars Stage Protest in Delhi
Vishal Malhotra (Photo/Video) By Lokesh Goswami Ten News Delhi :
New Delhi : The Ex Short Service Commissioned, Ex Emergency Commissioned and Women Special Entry Scheme Officers ( non- pensioners SSC/EC/WSES ) gathered today at Jantar mantar to protest and inform Prime Minister, Defence Minister, Chiefs of Army, Navy , Air force and the YOUTH of this country about the indifference and unfair treatment meted out to SSC/EC/WSES Officers causing grave Injustice and Humiliation to them.
These Ex Officers present here were amongst about 10000 officers including veterans of 1965, 1971 & 1999 wars and also included Officers who have fought insurgency in Kashmir & North- East India during their tenure in service.
Restoration of Medicare in Military hospitals as per the rules and ECHS is demanded to keep the dignity of life as per the Rank/status without any discrimination amongst the same rank holder. Withdraw appeal from Supreme court against the AFT Chandigarh order of 2010, immediately.
Amend Ex -Servicemen definition to ensure every military person is granted Ex serviceman( ESM) status "any time " he/she is permitted to retire/release with "Gratuity", whether on own request or by the Govt. Please note that courts have held that whether"Release in extension period" or on "own request " cannot be the reason to deny ESM status/benefits.

Major Randeep Hundal, President, All India Ex Short Service Commission Society (AIESSCOS) speaking to Ten News said,
"The shortage of officers in our country is now widely known fact. But the MoD appears to be addressing this by extending the duration of Short Service Commissions and lately also considering to increase the intake of SSC officers vis-à-vis regular commission Officers. It is a criminal waste of India's human resources that young officers, well-trained, qualified, medically fit, and willing to serve, are simply let go because they were hired under one category so called SSC rather than another."
The induction of SSC Officers was to get over the shortage of Officers in the Indian Army in wake of the Chinese aggression in 1962 and repeated war the country had to fight thereafter, Indian Army. The Instructions that time clearly provided that they will be given pension without enforcing the condition of completion of 20 years of service. In fact the Pension Regulation had the provision for calculation of pension from 2nd Lt onwards depending upon the number of years of service, which clearly goes on to prove that the SS Officers were required to be given Pro Rata pension. However, this was later diluted by some shortsighted bureaucrats / Armed Forces personnel sitting in the system.
There seems to be the Ministry of Defence policy to get the job done by the faujis without paying for it or some how deprive the SSC Officers in getting equal benefits as compared to the permanent commissioned Officers by calling direct SSC Officers service upto 14 yrs as "Short Service". Even a jawan gets pension after 14 years of service.