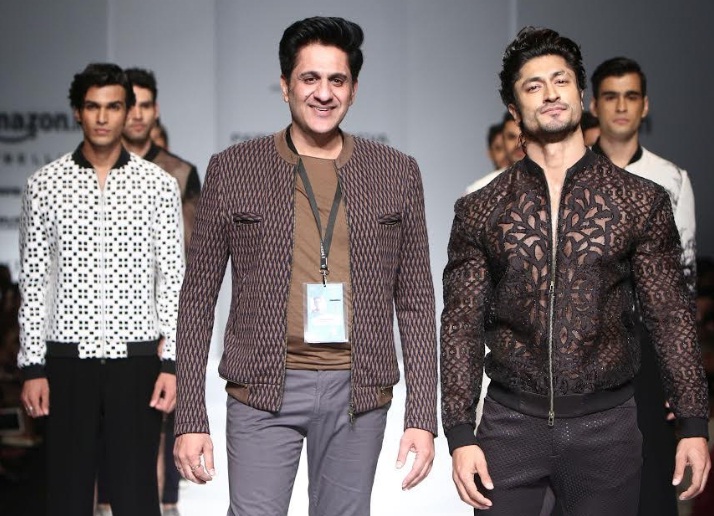 Pawan Sachdeva came.. showcased.. and conquered at the AIFW
By Bipin Sharma
When you have a seasoned designer of the likes of Pawan Sachdeva showcasing his design collections at a fashion spectacle as mega and grand like the Amazon India Fashion Week (AIFW) Spring Summer-17, the expectations are bound to go high. And like true champions, genius's too leave no stone unturned in demonstrating their touch of class and elegance at times when it matters the most to make a thumping fashion statement. At the recently concluded AIFW Spring/Summer-17, Pawan Pawan wowed his target audience comprising enthusiasts, aficionados and buyers by showcasing his collections named 'Facon' in a group show called 'Men in Fashion' along with designers Dhruv Vaish and Sahil Aneja. His collections not only drew a huge applause, but won many hearts.
That's why..no two thoughts that.
Pawan Sachdeva came,,,showcased..and literally conquered hearts at the AIFW !!
His collections predominately epitomize elegance, comfort, chic, detailing, perfect fit and sportiness, and the hallmark of his signature work has been unswerving stress on techniques and fabrics. Ever since he launched his label in the year 1999, there has been no looking back for Pawan as his design collections have enthralled the fashion aficionados from all over the globe. While his fashion range commences from age 16, there is no upper limit for those aspiring to don Pawan's ensemble.
The flamboyant Designer who predominately caters to the A-lister high profile clientele from Europe and the Central Asia, has been making waves since the last two decades with his resplendent, trendy and ingenious designs. 'Facon' the title of his collection, in the literary sense connotes MAKE, SHAPE & APPEARANCE, where 'MAKE' signifies Bespoke craftsmanship, 'SHAPE' personifies modern construction and 'APPEARANCE' dictates the dexterous surface techniques from laser cut-work to tie and dye, which breathes in a unique character in each look of the collection. Pawan's collections are an artistic amalgamation of fresh perspective for comfortable men's clothing, which besides being experimental, happen to maintain their distinctiveness for the urban-jetsetter.
The 5-day AIFW 2016 spectacle comprising 31 shows and 110 designers evoked a stupendous response as it showcased the timeless handloom legacy of different parts of the country. The Fashion Week has perpetually been an extraordinary platform for bringing to fore the fashion styles of eminent designers through spectacular shows.
In an exclusive chat with tennews.in, Pawan seemed euphoric with his maiden foray into the AIFW. He lauded the 'India Modern Festive' theme of this year's fashion extravaganza, and heaped praise on the efforts towards uplifting the weavers of Chanderi by showcasing their works in the Fashion Week. Vidyut Jamwal stunned as the showstopper for Pawan Sachdeva at the AIFW SS 2017
Talking to senior journalist Bipin Sharma, Pawan Sachdeva said, "For the Spring/Summer of 2017, I have assiduously explored the untamed quest of creating a whole new gamut for the modern day uber dresser. The initiative to revive the rich heritage of Indian weavers by showcasing the matchless handloom legacy of the country is praiseworthy. It's a matter of pride to see Indian textiles getting all round appreciation by buyers from all nooks and corners of the world. Indian handlooms and textiles stand apart which is why the International market has been showing a keen penchant for Indian fabrics. It is incredible on the part of designers to get weavers to sashay on the ramp all with the objective of making the world aware of their hard labour and efforts. The designer's fraternity is committed and working passionately to put India on the top. Goes without saying, that good orders from foreign buyers would give impetus to the economy of the country, and thus pave the way for creating more jobs. However, in order to be rewarded with regular business and repeat orders, we need to stay sincere and adhere to our professional commitments. The Fashion Design Council of India (FDCI) at their end have been doing a remarkable job in professionally promoting, grooming and representing the colossal talents in the country. They have been successful in propagating the fashion business in India and globally by hosting multihued fashion weeks at a regular basis. The fashion weeks play a pivotal role in helping clients/visitors think and plan as to how they can judiciously invest in their wardrobes, in sync with the prevalent trends, their penchants and style quotient. The bottom line being to create a wardrobe that is not just affordable and trendy, but one that can easily fits into any age group and body type. It is certainly a win win state when esteemed visitors have the privilege of gazing at all the offerings comprising exclusive design collections from the best Indian designers and brands under one roof.
The FDCI has played a pivotal role in bringing about synergy by integrating designers from various states, cities and towns of India into one cohesive unit thereby steering them towards sustainable growth. Kudos to FDCI for providing a platform for Indian Fashion Designers with the key objective of promoting Indian Fashion Wear in both domestic and International markets. The chief thrust being on providing impetus to the designers to develop their brands locally and internationally. It is pertinent to mention how 'Fashion Business District' project would have help develop Delhi as a prime fashion hub, and thereby, facilitate and bolster its global level fashion ties with the happening fashion cities of the world. It would have also built hi-fashion streets in the district that would be nothing, but a one-stop shop for all fashion needs and desires. Spanning numerous blocks, the Fashion Business District would have transformed into being one of the most sought after hubs of the apparel industry in the city by being the convergence point for all the retailers, wholesale buyers, designers, stylists, students, shoppers and residents. It would have worked like a 'Business Improvement District' (BID), funded by myriads of property owners within the various block district, dedicated to making the community a clean, safe and friendly place to work, shop and do business."