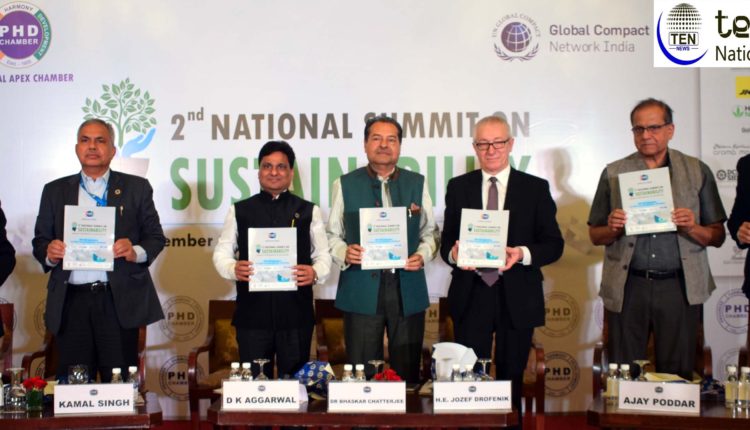 PHD Chamber of Commerce & Industry host '2nd National Summit on Sustainability' in Delhi
Prerit Chauhan (Photo & Video) By Rahul Kumar Jha
New Delhi: The 2nd National Summit on Sustainability 2018 was hosted by  PHD Chamber of Commerce & Industry and Global Compact Network India on Friday at Shangri- La's – Eros Hotel, New Delhi. The Event delivered ideas, strategies and solutions for a sustainable business and also enhanced awareness on business models, tools, technologies, solutions and approaches followed by the global and regional leaders across industry verticals towards building sustainable economies.
Speaking during the Summit, Dr. Bhasker Chatterjee, Former DG & CEO, Indian Institute of Corporate Affairs, Ministry of Corporate Affairs, GOI, Highlighted the role of leadership on Public-Private Sector in Achieving SDGs.
Addressing the Gathering he said,
"I'm really happy that UN Global Compact and PHD Chamber of Commerce & Industry have come together and synergy between these two organizations is extremely well for the Sustainable at CSR. They have sent a message which Resonates not just through their own beneficial. Moving from these individual organizations, this has move to National Stage now."
During the Summit, Ten News Caught up with, Kamal Singh, Executive Director, UN Global Compact Network, India.
Speaking to Ten News, he said,
"This Summit Aim is not only to sensitize our membership but also debate and discuss also on how india has to create a ecosystem to achieve the sustainability development goals. And this Summit will help us to prepare a blueprint how companies need to prepare their own agenda they also need to engage the UN Agency like Global Compact in building agenda."
Eric Hensel,Co-Founder Sustainable Square, Talking to Ten News said,
"First of all it's wonderful everyone is coming together to discuss about sustainability. we can see it's growing and people are responding favourably and it is extremely wonderful to hear on the Indian context. We heard things such as if India Succeeds world Succeeds that certainly brought my attention to the ground here. From outside we don't see it much more than India has third of the world's population, India China have half of the world's population we have look at these people as big holders and how we can empower them but here i'm, Indian Strategy, Indian Government designs are actually focusing on what rest of the world is implementing in smaller models that's a very intresting approach."
Nidhi Pundhir, Director, HCL Foundation talking about the Summit said,
"It's a great initiative where they have brought up the key Stakeholders in the era of convergence where various partners need to come together and strategies together because a collective action is needed in order to achieve sustainable development goals. So i think thought process is quite good and now it's the action on ground Which matters."