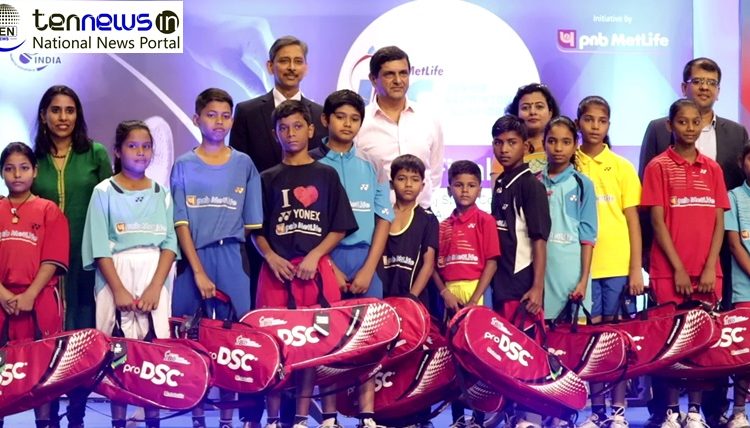 PNB Metlife Felicitates Winners of Junior Badminton Championship 2018, Prakash Padukone talks about PV Sindhu
Prerit Chauhan (Photo/Video) By Lokesh Goswami Ten News Delhi :
New Delhi: The fourth edition of the 'PNB MetLife Junior Badminton Championship (JBC) 2018, culminated with a grand awards ceremony, at Thyagaraj Stadium in New Delhi with eight young shuttlers named winners in the tournament across the four categories, U-9, U-11, U-15 and U-17.

In addition to these winners, PNB MetLife also awarded runners-up and the top two semi-finalists for each category both in the boys and girls groups.

Prakash Padukone graced the finale as the chief guest in the presence of Guest of honor, Sunil Mehta, Managing Director of India's second largest PSU lender, PNB Bank and Ashish Srivastava, MD & CEO, PNB Metlife.

Speaking on the occasion,Badminton legend and Chief Guest, Prakash Padukone, said, "It gives me immense pleasure to see how far badminton has progressed and is becoming the second highest played sport in India. As a coach, I would like to acknowledge initiatives like Junior Badminton Championship by PNB MetLife, which go a long way in the development of the sport. I am delighted to see the enthusiasm and dedication these players have shown from across the country today. Congratulations to all the participants and their parents who have been a pillar of support and helped their children in pursuing their dreams."
When asked about PV Sindhu jinx at Big Finals, after the felicitation Programme, He said,
"She played Well which is quite commendable she reached successive finals. The competition in the top is very tough and not easy. I think she should aim for gold next time."

Ashish Srivastava, MD & CEO, PNB Metlife, said,
The number of participants and the gratifying response that JBC has received is a testament to the tournament's success year after year. I want to congratulate all the winners for their exemplary performance and the participants for their enthusiasm. We will continue to encourage youngsters to adopt this sport and build a platform for talented young athletes of India so that together we can achieve a healthier and stronger nation.