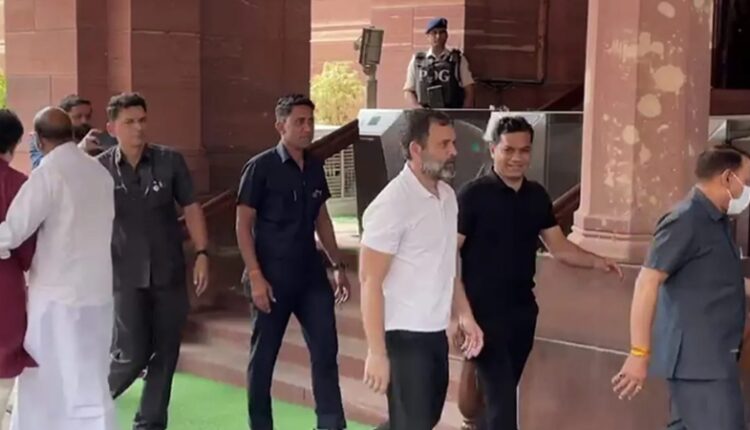 Post disqualification, Rahul Gandhi visits Congress office in parliament
Ten News Network
New Delhi (India), March 29, 2023: The political world was abuzz today as former Congress President Rahul Gandhi visited Parliament amidst controversy surrounding his recent disqualification.

The Election Commission, meanwhile, declined to announce byelections for the Wayanad Lok Sabha constituency in Kerala, which has been left vacant following Gandhi's disqualification after receiving a two-year jail sentence in a defamation case.
Chief Election Commissioner Rajiv Kumar cited the Representation of People Act, 1951, in stating that by-elections must be held within six months of any vacancy, with all vacancies cleared by February 2023. The Congress party had prepared for a legal battle should the Election Commission have announced the Wayanad by-polls today.
In a related matter, Mohammad Faizal, an NCP leader who was previously elected to the Lok Sabha, had his membership restored after serving a 10-year prison sentence for attempted murder.
Faizal was sentenced along with three others on January 11 and received a disqualification notice from the Lok Sabha Secretariat two days later. However, the Kerala High Court suspended his sentence two days before the by-elections, forcing the Election Commission to withhold the vote.
Despite the uncertainty surrounding the Wayanad by-elections, Gandhi has 30 days to appeal his sentence, with the Congress party hoping for a stay of the ruling to allow him to regain his membership in the Lok Sabha. The Representation of the People Act 1951 stipulates that anyone convicted of an offense and sentenced to imprisonment for two years or more stands disqualified.