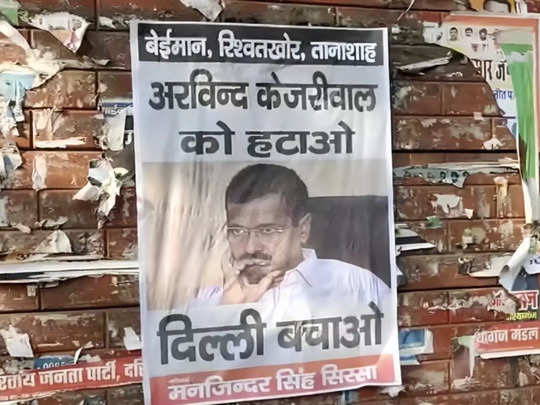 Poster war continues in Delhi as anti-Kejriwal posters fill walls
Ten News Network
New Delhi (India), March 23, 2023: In a display of political tension, posters calling for the removal of Delhi Chief Minister Arvind Kejriwal emerged in Delhi today, just two days after a similar crackdown on posters targeting Prime Minister Narendra Modi.

The posters, attributed to BJP leader Manjinder Singh Sirsa, label Kejriwal a "dishonest, corrupt dictator" and call for his removal to "save Delhi." This comes after a crackdown on posters bearing the slogan "Modi hatao, desh bachao" ("Remove Modi, save the country") that saw six individuals arrested, including two printing press owners.
The police defended their action by stating that the arrests were made for defacing public property and that posters were required to carry the name of the printing press under the law.
Delhi Chief Minister Arvind Kejriwal dismissed the recent posters calling for his ouster, stating that everyone has the right to paste such posters in a democracy. He also criticized "the police crackdown," questioning the arrests of the printing press owners and six individuals for posting the anti-Modi posters.
The ongoing poster war marks the latest in a string of BJP-AAP (Aam Aadmi Party) face-offs after the arrest of former Delhi Deputy Chief Minister Manish Sisodia in a new liquor policy case.
The AAP denounced the recent police action as the "peak of the Modi government's dictatorship" and announced a protest at Jantar Mantar in Delhi today to demand the prime minister's ouster.
Meanwhile, the BJP criticized the AAP for violating the law while putting up the posters, stating that they did not have the courage to take responsibility for their actions. This latest development highlights the growing tensions and deepening divide between the two major political parties in the Indian capital.