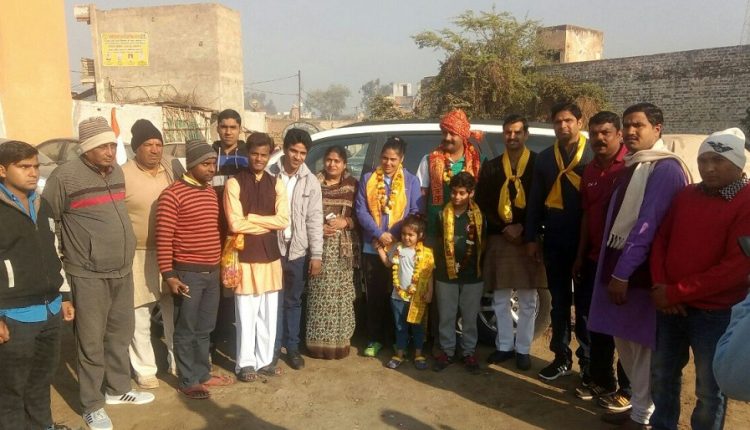 Pratibha's 450 km walkathon for "Girl Child Empowerment" evokes overwhelming response
By Bipin Sharma
Pratibha Pundir Sengar, wife of Col. Manish Sengar, is a Lady on a Mission. Inspired by Prime Minister Modi's clarion call for empowering the 'Girl Child' in the country, Pratibha has been passionately spreading awareness regarding the National Level campaign of "Beti Bachao,Beti Padao" by undertaking walkathons in different nooks and corners of the country.
She was in the news recently for successfully completing a 450 km long walkathon from Ambala to Agra. The walkathon that commenced on 19th December, 2017 got concluded on 30th December, 2017. During the course of eventful journey, she was greeted and lauded for her painstaking initiative by countless enthusiasts, admirers and volunteers, who too pledged their unwavering support for the noble cause of empowering the Girl Child.   
Incidentally, ever since Prime Minister Modi gave the slogan of "Beti Bachao, Beti Padao", Ambala based Pratibha has made a vital contribution by undertaking walkathons from her hometown to different destinations, all with the aim of inspiring more and more people towards gender equality and the grave need to educate girls. With absolutely no agenda other than to make people aware about the ill effects of female foeticide and gender discrimination, Pratibha leaves no opportunity of educating people about how girls possess the potential to not only bring laurels for their parents, but the nation on the whole as a result of their sincerity, commitment and boundless passion. Her family has always been supportive of all her ambitious endeavours in her awe inspiring journey, and this is the reason why Pratibha duly credits them for all the accolades that have been bestowed on her so far.
Sharing more on her mission and long term plans, Pratibha says, "Kudos to our dynamic Prime Minister Narendra Modi who gave us such a strong slogan to follow and imbibe in our real lives. Life becomes worthwhile when you dedicate your precious time and efforts for germane issues concerning the society and humanity. The issue of Girl Child has always been close to my heart, and I always wanted to contribute my bit in educating people about gender equality between girls and boys, as well as the need to make the world a safe and secure place for women. I am extremely grateful to all the people who supported me wholeheartedly during the course of my walkathons. The entire exertion vanishes in thin air when people respond positively to the message of girl child empowerment, and confirm their assurance in this important national level campaign. I wish to make a special mention of my 5 year old daughter Abner who inspired me to undertake the first walkathon of my life about two years ago for a noble cause from Ambala to Chandigarh. The second walkathon that I undertook was from Ambala to New Delhi again for spreading awareness for gender equality, girl child empowerment and education. I have miles to go as a lot still needs to be accomplished in making the country sensitive towards the challenges being faced by girls."   
Renowned Microsurgeon and Author Dr Anuj remarks, "The initiative undertaken by Pratibha is commendable and is bound to inspire countless people all over the country towards playing their role in empowering the girls of the country. In order to ensure that there are no future Nirbahaya like incidents, the entire society has to pledge their commitment. People should not remain mute spectators when they see a woman being subjected to any sort of injustice or crime. It is the duty of every citizen to pledge their unremitting support to women in need and distress. Women safety deserves top most priority, and there is an urgent need to brainstorm on the practical steps which will ensure its reality. Having a lax approach in matters pertaining to women safety would be completely disastrous. The youth brigade has to be motivated for playing a proactive role in making the city and the country safe for girls and women."