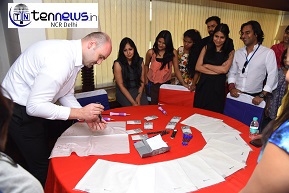 PRECIOSA , A LUXURY CRYSTAL BRAND PRESENTED PRODUCT WORKSHOP SUPPORTED BY CZECH EMBASSY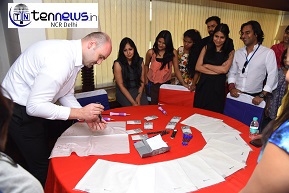 PRECIOSA , A LUXURY CRYSTAL BRAND PRESENTED PRODUCT WORKSHOP SUPPORTED BY CZECH EMBASSY
24th April 2016, New Delhi : A Product Workshop hosted by PRECIOSA took place at the  Embassy of Czech Republic.
The Workshop was held to provide a complete portfolio of PRECIOSA Crystal Components including the latest February 2016 novelties together with the information how to use them in different application forms to further consolidate its position in increasing the business with its existing designers and potential future customers as well.
The Workshop began with an introduction on PRECIOSA Group with focus on PRECIOSA Crystal Components division followed by providing a complete insight in to crystal components product portfolio. The second part of the event was the product workshop where own fashion designs with PRECIOSA Crystal Components were made. The evening turned out to be a gala event where the guests were seen mingling over delectable dinner.
Preciosa joined hands with Designer Manish Arora for his AW' 15′ collection which was showcased at Paris Fashion week and  also Presented Designer Rimple & Harpreet Narula  @ Amazon India Couture Week 2015.
Preciosa's  International Association with Designers
Pop Diva Madonna steals the screen in a custom corset by 'The Blonds' with thousands of precision-cut Preciosa crystals during her music video launch "Livin" for "Love" last year.
Preciosa has had worldwide tie ups with leading fashion designers who have incorporated their crystals in their collections showcased over various  Inter-national fashion weeks. PRECIOSA is thus visible at the major fahion shows (India Couture Week, Paris Fashion Week, Sao Paolo Fashion Week, London Fashion Week and so on).
This year at New York Fashion Week, Czech crystal brand Preciosa returned for its fourth season with fashion designer duo The Blondsfor their February 17th show at MADE at Milk Studios in Chelsea, New York City.
This year Preciosa  launched the New Inspirations for Fall and Winter 2016/2017 collection and have organized several workshops and seminars around the world to create awareness about the same.
Brazilian Carnival with dazzling PRECIOSA Crystal Components- Dressed in an over-the-top fantasy bursting with PRECIOSA crystal components, Claudia Raia, a popular Brazilian actress and dancer, sparkled at the famous annual Samba Parade, both in São Paulo and Rio de Janeiro.
Columbian Vice-miss Universe 2015 ARIADNA GUTIERREZ  adorned sparkling PRECIOSA stones while shone out in her lovely dress. The South American beauty wore a gown designed by Designer ALFRED BARRAZY from Columbia. The gown shone in brilliant shades of Gold Quartz from the traditional Czech producer of cut crystal components. 
About PRECIOSA
Founded in 1948 in Bohemia (part of the Czech Republic), PRECIOSA is a luxury European brand. A world leading producer of machine cut crystal, specializing mainly in the production of top quality fashion jewellery stones, flat back stones, beads and pendants, nacre pearls in a broad variety of shapes, colors and sizes. It primarily produces semi-finished products for the jewellery and fashion industries. The most popular products include Hot Fix VIVA 12, MAXIMA and glass beads.
The PRECIOSA group comprises of the following divisions: PRECIOSA Crystal Components, PRECIOSA Cubic Zirconia & Gems, PRECIOSA Lighting, PRECIOSA Jewellery and Decoration, PRECIOSA Traditional Czech Beads and the glass closure Vinolok for an exquisite presentation of wines, spirits and more.