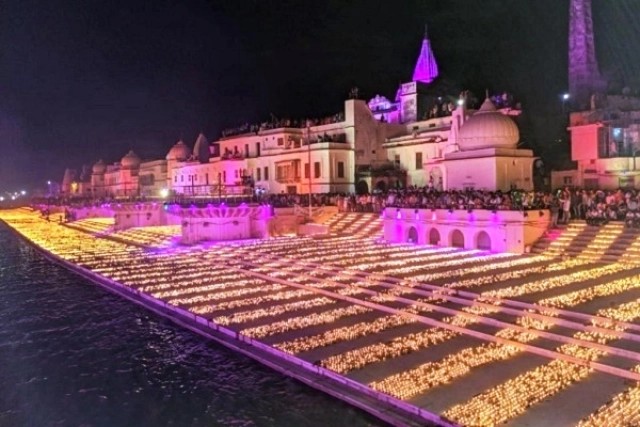 Preparations in full swing for grand Deepotsav celebrations in Ayodhya
Ten News Network
Preparations are underway for a grand 'Deepotsav' celebrations here at Ram ki Paidi in Ayodhya, in strict compliance with the Covid-19 guidelines.
Several people on Thursday decorated the venue with diyas, paintings and rangolis for 'Deepotsav', which will be held from November 11 to 13. This year 5.51 lakh earthen lamps would be lit at Ram ki Paidi ghats.
It is the fourth 'Deepotsav' organised by the government of Uttar Pradesh in Ayodhya.
Hassan Ali, a local artist at the venue said, "We have come here to celebrate Deepotsav. I like working here. I have designed several jhankis (tableaus)."
Meanwhile, the Lalit Kala Akademi is also prepping to exhibit 25 Lord Ram statues on the theme Jan Jan Ke Ram (or Lord Ram for every person) in Ayodhya on Friday ahead of the festival of lights.
The unique idols of Lord Shree Ram, built at Laxmanpur in Ayodhya, the city of Lord Ram, will fascinate Ram devotees, say organisers.
The famous episodes of Ramayana like Ahilya Deliverance, Kevat episode, Darshan of unique forms of Rama, Ram Laxman Prem, Bharat Milap will be displayed as sculptures shielded in fiber, terracotta, and wood in the exhibition, under which Shri Ram's messages will be conveyed to the people.
This is going to be third consecutive year when Deepotsav will be celebrated in Ayodhya with much religious fervor by Uttar Pradesh government.