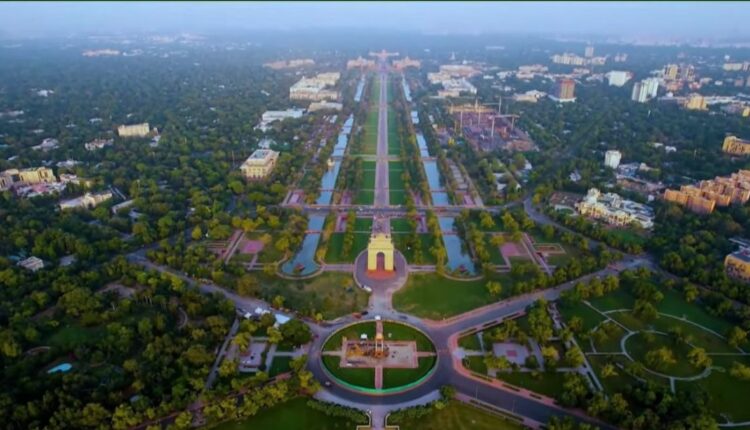 Prime Minister Narendra Modi Inaugurates Central Vista Avenue 'Kartavya Path' and Unveils 28 ft High Bose's Statue, Calling it a Historic Moment

Ten News Network
New Delhi, 8 September 2022: Prime Minister Narendra Modi has inaugurated the newly revamped Kartavya Path and a symbolic statue of Subash Chandra Bose at the Central Avenue stretch from the Rashtrapati Bhavan to the India Gate.
"From now, Kingsway, the symbol of colonialism, will be lost to history forever. Kartavya path represents the start of a new age. I applaud the entire nation for leaving behind yet another reminder of colonialism, the Prime Minister said.
The revamped Rajpath, now known as the Kartavya path will be equipped with about 1000 bollards, 900 modern light poles, 650 smart signages, 4 new underpass, new and unique parking areas, 8 vending plazas for shops, special seating and toilets for people, 16 new bridges and renovated and well-designed 19-acres water body. Additionally, a 28 feet high statue of Subhash Chandra Bose has been installed near the India Gate sculpted from 280 tonnes of monolithic granite by sculptor Arun Yogiraj.
Prime Minister Narendra Modi in his address stated that India has got a new inspiration and motivation today. We have truly moved on from our past and have a new vision for the future. Similarly, Rajpath from now will have a special place in history and in form of the kartavya path, a new history has also been written, he said.
A unique state of Subash Chandra Bose has been installed. Earlier in the British era, King George's statue stood here but now we have Bose's statue, inspiring people to be dedicated to achieving a modern and empowered India, making this a very memorable moment for all of us, urged the Prime Minister.
Talking about the visionary nature of Subhash Chandra Bose, PM Modi said that he was a great man who never backed down from challenges. Bose was a brave and courageous man who never backed down from difficulties and had a vision. He believed that India is not a nation that will forget its great history. Every Indian has the country's heritage in their veins."
"It would have been a different tale if India had followed the route paved by Netaji after gaining freedom. However, India has forgotten its hero and his ideals," the PM asserted. The statue of Netaji on the Kartavya Path will serve as an inspiration. We have made decisions over the last eight years that reflect Netaji's values. While several policies have been revised to get India out of the British influence. For example, the National Education Policy had freed people from the compulsion of studying English, he added.
"The vision and ideals of India are now being separated from the idea of slavery and influence of colonialism. This will ultimately inspire us to attain a developed nation. We have to pledge to make India a superpower and it will be achieved by this kartavya path. We have to remember that it is not just a concrete road but a symbol of our historic constitution and immortal ideals of India. When people will visit this, and see the statue and national war memorial, it will motivate them to do the right thing.
From this place, the government is leading the country. Rajpath would not have motivated them to realise their duties but Kartavya Path will make them realise their responsibilities and duties towards the people of the country, exclaimed the Prime Minister.
"Agar Path Hi Rajpath Ho, Toh Yatra Lok-Mukhi Kaise Hogi", he said. Rajpath was established during the British Raj reminding Indians of their enslavement and suppressed lives. But today its architecture, spirit and soul have been changed, PM Modi added.
He also announced that on 26th January, all the sculptors with their families will be specially invited. "Today I am truly satisfied that new India respects hard work and hard workers. Today India has created a new tradition of honoring karma."
It is also decided that all the people involved in the central vista project also have a special place in a unique gallery here inspiring people to work hard and telling them that success can be achieved through hard work, the Prime Minister stated.
Addressing the growing infrastructure of India, the Prime Minister said, "along with social and digital infrastructure, India is also working on cultural infrastructure. It is not only about religious institutions but places where people gain knowledge as well" he also said that in the form of Kartavya Path, the country is getting one more excellent example of cultural infrastructure.
"You will see the India of the future here. It will give you a new vision, and new belief. For the next three days, a drone show will be held based on the life of Netaji. People come here in large numbers in the evenings. The planning, designing and lighting of the Kartavya Path has been done keeping this in mind," he added.