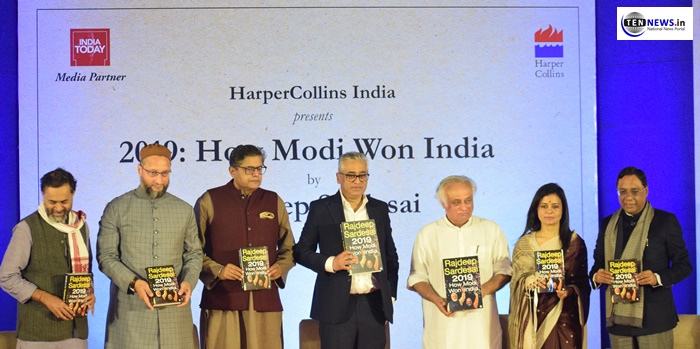 New Delhi (29/11/2019): With 26 years of journalistic experience in Print and TV, Rajdeep Sardesai, after the 2019 Lok Sabha Elections, is again up with another political book that offers versatile information on, 'How Narendra Modi won India', and so is the title of this book.
At the unveiling ceremony, six renowned political personalities were also present on the Dias.
Among these six political figures of India, the session had Asaduddin Owaisi, the chief of All India Majlis-e-Ittehadul Muslimeen (AIMIM) as well who after providing his statement to media earlier, again slammed the BJP MP Pragya Thakur and called her "an enemy of Mahatma Gandhi and a supporter of his killers," for her recent controversial comments in the Parliament on Nathuram Godse.
Asaduddin also commented on one of questios he was asked by Sardesai regarding his opinion on the Top Courts verdict on Ayodhya dispute, in which he said, "I've got 5 acres and my opinion doesn't matter now."
"When I speak, I have to connect with people. And if I don't connect with people and I convey the speeches that are 95% against BJP, I can't win elections from places where my party is ruling. It is not always speeches that helps us in elections but mostly the work we do in our Constituencies", added Asaduddin Owaisi.
When asked about her opinion regarding their booming Modi-Shah era, TMC leader Mahua Moitra commented, "I think the time that India is living in today, the opposition do not need any kind of similar ideologies or to stay glued to each other, but the need of the hour is to save the soul of the country!"
"What Modi and Amit Shah are doing today is splitting the nation into two! I don't think I need to answer why the Left, Congress and TMC fought together in Bengal but all I need to express is that today, we are all fighting against the ruling with our back against the wall and we are continuously doing but we can to save our country. We will not be judged or remembered today, but after 50 years when the nation will finally lose its soul if this so called Modi era continues", added Mahua Moitra and collected claps from every single person sitting in the hall.
Present at the session, Former BJP MP Jay Panda also shared his point of view after working with the ruling party. He said, "BJP under the governance of Modi has achieved two landmark elections and even in 2014, we were at the front poll position and because of which there was a fundamental shift and we witnessed a single largest party after three decades."
"The most amusing fact is that it took 5 years for all the oppositions to realise that they have to stick together now", commented Jay Panda.
On the other hand while delivering his words regarding the stage that the ruling has acquired today, psephologist Yogendra Yadav said, "One week may or may not be a very long time in politics. I think that we are witnessing today are two different trajectories. There is a trajectory at the state level which started from Gujarat and today have reached Maharashtra, which is where the BJP faces real election issues and can't stand brilliantly without any support."
"On other hand, we see the National Graph and we must not forget what happened in 2019 Lok Sabha elections and what has been consolidated further by what happened in Kashmir after the Supreme Court's judgement. I would just like to say that the BJP's success in 2019 is firmly based upon and ideological, moral and cultural happenings that were done just to grab the majority of votes", added Yogendra Yadav.
Responding to one of a question from Sardesai, Congress leader Jairam Ramesh said that, "Modi may have won the 2019 Lok Sabha elections but actually he is losing the nation and within 6 months after the Lok Sabha elections that happened in May, Modi governance has triggered a midst in the slow down of the Nations economic."
Specialising in national politics, Sardesai has won numerous awards for journalistic excellence including the prestigious Padma Shri for Journalism in 2008, the International Broadcasters Award for coverage of the 2002 Gujarat riots, and the Ramnath Goenka Excellence in Journalism Award for 2007. He has also won the Asian Television Awards 2014 for Best News Presenter in Asia for the coverage of the 2014 general elections. He has been News Anchor of the Year at the Indian Television Academy for eight of the last ten years and his programme Big Fight won the Asian TV award for best talk show twice in a row. He has been the President of the Editors Guild of India and was also chosen as a Global Leader for Tomorrow by the World Economic Forum in 2000. Sardesai writes a fortnightly column across several newspapers, including the Hindustan Times.