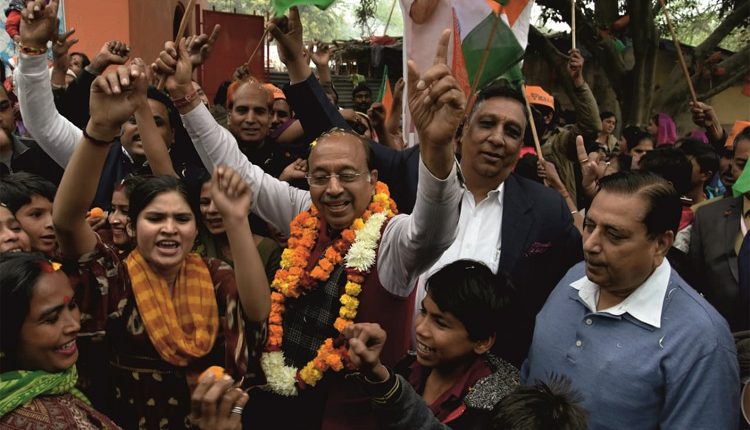 Rajya Sabha MP Vijay Goel joins refugees in celebration at Majnu ka Teela
New Delhi, December 12, 2019: With the passage of Citizenship Amendment Bill, wave of happiness can be seen at Hindu refugee camps. BJP MP and former BJP Delhi President Vijay Goel joined such 200 Hindu refugee families living at Majnu ka teela since past 10 years.
Celebration of Majnu ka teela had drums, sweets and garlands. Goel said Modi ji has given a new life to Hindu refugees with the passage of this Bill. They will be able to get Indian citizenship now.
Goel said that with the passage of this Bill, persecuted Hindu, Jain, Sikh, Christians and Parsi minorities from Afghanistan, Bangladesh and Pakistan will get Indian citizenship.
Goel said that Bill will become law with President's assent but sadly, Congress is planning to challenge it in the Court. This is despite the Bill being passed by Parliament.
Goel said that Opposition is misleading the country and is portraying it to be anti-muslim. Goel said that he himself spoke to Muslims of Chandni Chowk who said that they will not be misled. This Bill is not affecting the rights of Muslim citizens of India nor is it depriving them of their rights.
Goel said that people throughout the country are congratulating Modi ji and Amit Shah ji for this key legislation. Government has assured the North Eastern states that this will not affect their culture, language, heritage and rituals.
Goel told that a refugee woman named Veeva from Pakistan's Sindh province told him that she didn't have any rights in Pakistan. They didn't have religious freedom and could not celebrate their festivals. Their temples were destroyed too. A woman named Seeta said that they were forced to convert to Islam.
Another refugee Seetaram told Goel that our women are not safe there. There is always a threat of rape. A lot of our family members are in Pakistan who are not being allowed by Pakistani government to move to India. Another refugee told Goel that after the passage of Bill, it is like Diwali in the camp. Modi ji will give us home and employment.