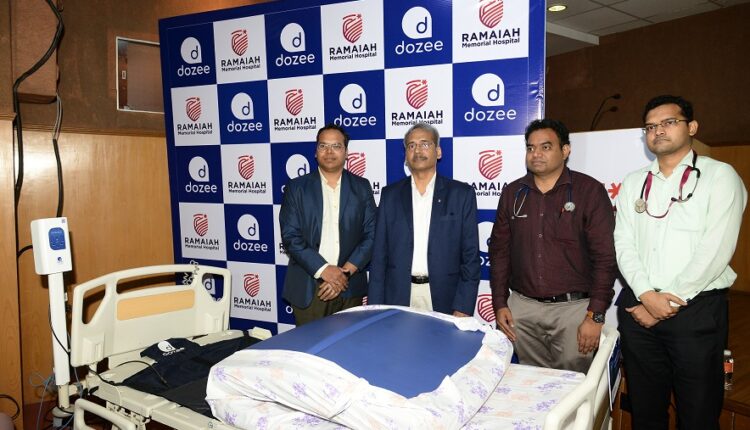 Ramaiah Memorial Hospital Adopts Dozee's AI-based Contactless Vitals
Bengaluru, India, 25 November 2022:  Ramaiah Memorial Hospital, Bengaluru, Karnataka, has entered into a partnership with Dozee to implement continuous patient monitoring in the super speciality, broad speciality, and multispeciality wards. The ward beds in Ramaiah Memorial Hospital will now be upgraded to Dozee connected beds powered with contactless continuous vitals monitoring and an Early warning alert system. Dozee's solution is cloud-enabled and comes with a central and remote patient monitoring capability that empowers healthcare providers to monitor the patient more effectively and provide timely medical interventions for improved patient safety and clinical outcomes. Automation and digitalization of vital data and operational processes are significant for Ramaiah Memorial hospital in its journey to become a smart hospital.
Dozee enables healthcare workers to remotely monitor patients' vital parameters such as heart rate, respiration rate, blood pressure, SPO2 levels, temperature, and ECG. Dozee's Early Warning System (EWS) tracks the trends of the vital parameters and provides alerts to healthcare providers for early detection of clinical deterioration of patients enabling timely medical intervention. Dozee uses AI-powered Ballistocardiography (BCG) for contactless vitals monitoring. Dozee's technology is patented and made in India. Dozee's innovative technology has a clinically proven accuracy of 98.4%. Continuous vital monitoring significantly impacts patient safety, clinical outcome, and operational efficiency. Research done by independent consulting firm Sattva shows that for every ~100 Dozee connected beds, it can save ~144 lives and ~80% of the time taken for vitals by nurses and reduce ICU ALOS by ~1.3 days.
Dr. K.C Gurudev, President, Ramaiah Memorial Hospital on the hospital's resolution to adopt this connected care system for contactless remote monitoring of patients, said, "In keeping with our vision of Better Health for a Better World, we continue on our path towards achieving the goal of delivering holistic healthcare to our patients through this collaboration with Dozee. In this age of technology, it is imperative that we must keep upgrading and preparing ourselves with resources and equipment that will enable us to take care of our patients better. Through Dozee, we hope to aid our highly skilled healthcare workforce in averting crisis situations and improving the quality of care our patients receive."
"It's our privilege to join hands with a prestigious institution like Ramaiah Memorial Hospital as we aim to leverage technology to further enhance patient safety, improve clinical outcomes and nursing efficiency. Adoption of continuous ward monitoring and Early Warning Systems is the key to delivering quality healthcare at scale." said Mudit Dandwate, Dozee's CEO and Co-founder.
Located in the Garden City of Bengaluru, Ramaiah Memorial Hospital is recognized as one of the leading hospitals in delivering quality care to patients at affordable costs. It was founded by the late Dr. MS Ramaiah, a visionary and philanthropist. Currently managed by the Gokula Education Foundation, the hospital was established with the mission of giving back to society. It is continually striving to do so by providing optimal healthcare solutions to its patients.