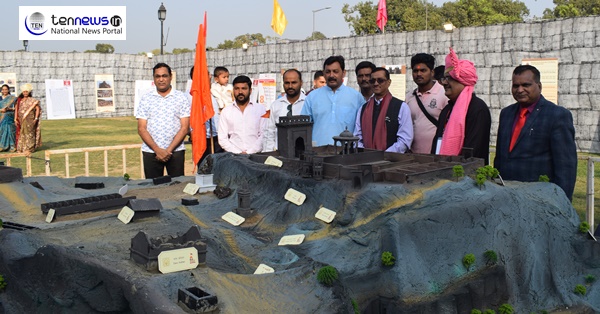 New Delhi: Raigad is a hill fort situated in the Mahad, Raigad district of Maharashtra, India. The Maratha king Chhatrapati Shivaji Maharaj built this fort and made his capital in 1674 when he was crowned King of a Maratha Kingdom which later developed into the Maratha Empire eventually covering much of western and central India.
Soaring to a height of around 820 metres, the captivating Raigad Fort is perched on the Sahyadri mountain range. An exquisite gem of the Indian history, the fort is of great pride for the Marathas and accounts to their glorious past.
Chhatrapati Shivaji who is an Inspiration for Generations was Honored at India Gate, New Delhi with a recreation of Raigad Fort's original 300-year-old architecture through a 3D model ,that was exhibited as a part of Diwali celebrations.
On the occasion, Ten News Caught Up with,Sambhaji Raje,descendant of Chhatrapati Shivaji and MP Rajya Sabha. Speaking to Ten News, He Said,
"The Empire of Shivaji Maharaj was so Huge that it has influence on capital Delhi as well. At Raigad fort not only Chhatrapati Shivaji was crowned King of Maratha Empire but he died over there only. Raigad fort is often compared to the largest fort in the world. As a President of Raigad development Authority i wanted that there should be a replica of the fort here.i would like to tell you that Conservation of Raigad fort has been also started back in Maharashtra."
Dnyaneshwar Mulay, Secretary MEA (Ministry of External Affairs and Overseas Indian Affairs), Speaking with Ten News about the Replica of Raigad Fort's said,
"This Replica of Raigad Fort is very inspirational for the children and the Youth of the country. Shivaji Maharaj was one leader who saw a dream dream of India in the 16th Century. To look this much forward in those time there was no Leader or King other than Chhatrapati Shivaji. This Raigad fort is the fort where
He was crowned King of Maratha Kingdom and the moment when he was crowned king of Maratha kingdom has lot of importance in our history and present."