By Bipin Sharma
The vivacious team of Revista Magazine organized a Grand finale of Mr Miss
and Mrs Galaxy 2018, a beauty pageant cum TV realty series on November 4,
2018 at Ornate Banquet & Resorts. The glorious night was graced by the
presence of renowned social activists and YouTubers Varun Pruthi and Himadri
Pruthi, and also by stylist Anuj Lalwani, media personality Bipin Sharma,
Nutritionist Varun Katyal, Navneet Arora, Saini Shah, Mehul Gadani and
Ratnadeep Lal.

It was truly a rollicking event with the contestants mesmerizing the audience
with some riveting performances. Arjun won the coveted crown of Mr Galaxy
2018 while Amit was adjudged the 1st runner up, followed by Aakash getting
chosen as the 2nd runner up. The Miss Galaxy 2018 crown was won by Mrinal
Diwevedi, followed by Neha Rahejaa bagging the 1st runner up title, and
Bhawna Sharma bagging the 2nd runner up title.
The most eagerly awaited Mrs Galaxy 2018 crown was won by Rinky Jaiswal
followed by Priya Pundir getting chosen as the 1st runner up and AcchrraBRani
bagging the 2nd runner up title.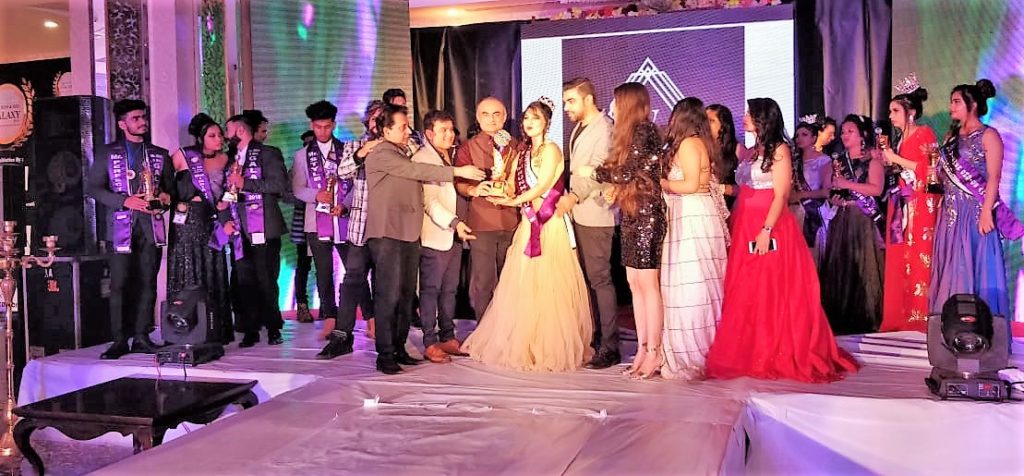 Besides the major crowns, the contestants were honoured with multiple subtitles
such as "Mr. Fashion Style Icon" won by Saksham Puniyani, "Mr Vibrant" won
by Abhishek, "Mrs Lifestyle" won by Jamuna Kapoor, "Mrs Fashion Icon"
bagged by Dimple, "Miss Fashion Icon" won by Sapna, "Miss Photogenic" won
by Shanee Shah, "Miss Lifestyle" bagged by Anu Chawla, "Mr Photogenic"
won by Rishi, "Mr Perfect Body" won by Pratham, "Mr Talented" won by
Deepak, "Popular Personality" won by Aman Bhatnagar, "Miss Galaxy as Miss
Viewer's choice" was bagged by Mrinal, "Mr. India Universe" won by Rishant,
"Miss India Universe" won by Ananya, and "Best Photogenic Face" was
bagged by Abhishek.

This grand event was organized by Ankit Sharma, CEO & Founder Revista
Magazine. An Initiative of Revista Magazine, the event was powered by The
Ornate Hotel. Dainik Bhaskar was the Associate Partner, Up Entertainment
were the Event Partners and Chirag & Team were the Photography Partners.
Ankit Sharma, the CEO and Founder of Revista Magazine, lauded the
achievement of all the winners and the contestants, and extended heartfelt
gratitude to all the Jury members for making the night truly memorable.