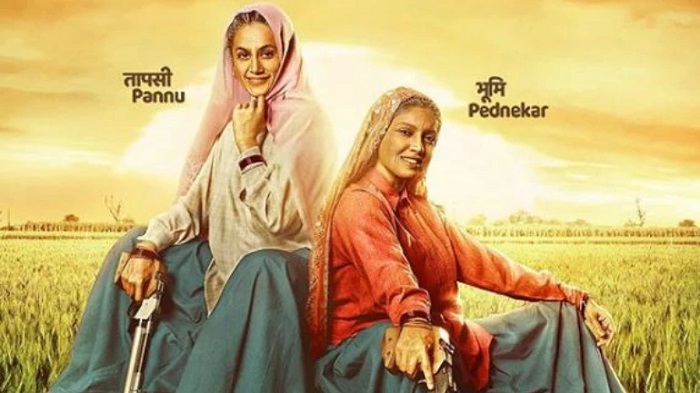 Saand Ki Aankh Trailer: Taapsee Pannu and Bhumi Pednekar are daring 'Shooter Dadis'
New Delhi: The trailer of this year's much awaited film, Saand ki Aankh arrived today and it is quite different from the regular sports biopics. Based on the life story of 'Shooter Dadis' from Johri Village in Uttar Pradesh, the film is set to take you on an extraordinary journey of two women who at an age of retirement picked up guns and became sharpshooting champions.
For doing justice to the role of 'Shooter Dadis': Prakashi Tomar and Chandro Tomar, the two actors Taapsee Pannu and Bhumi Pednekar, donned 60 something avatar by embracing wrinkles. Dressed in the traditional Haryana attire — shirt and ghagra with a dupatta covering the head — the two actors play sisters-in-law (Prakashi and Chandro) who realise their hidden talent at an advanced age.
The trailer gives us a sneak peek into the world of the two dadis, who stand up in support of their daughters who opt sharp shooting as a sport. However, both of them end up discovering their own hidden talent and they too start practicing the sport.
It also gives a glimpse of the incidents where they are ridiculed by the public and their family for picking up guns. But how the sun shines again for the two and they go on to win medals appears to be an interesting tale.
Check out the trailer here:
Director Tushar Hiranandani says, "Taapsee and Bhumi have both completely got into the skin of the dadis' characters and given their 100% to their roles in the film."
Saand Ki Aankh has been co-produced by Anurag Kashyap, who said, "I instantly loved the story that Tushar shared with me. The trailer is just a peek into the inspirational story of the Revolver Dadis that deserves to be told to all." The film is set hit theatres on October 25.