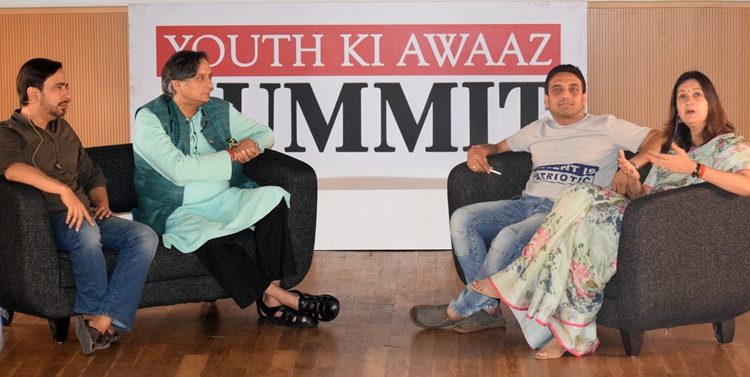 New Delhi: Youth Ki Awaaz Summit is one of the largest social justice media platform for young people to talk about the issues of critical importance. From 2014 Youth Ki Awaaz has been bringing together the sharpest, most inspiring minds driving this transformation across issues that are shaping our world.
Youth Ki Awaaz Summit in 2018 has taken a huge leap by expanding the dialogue on next level. A two-day Summit comprised of the panel discussion and debates, brought together over 40 powerful voices.
On Day-2 of the Summit, witnessed a powerful debate on the topic 'Can The Centre Hold' by Priyanka Chaturvedi, National Spokesperson, INC, Jayant Chaudhary, Vice President, RLD and MLA Kunal Sarangi which was moderated by Congress MP, Shashi Tharoor.
Debating on the Topic, Priyanka Chaturvedi said,
"The problem began when the Centre started exercising with the authorities and overpowering authorities on the various state government. That is when the problem arises. I joined the Youth Congress at a time when they were inviting people from a non-political background. These are places where you can begin to contribute politically. States which have grown in population are eligible for more assistance. But it raises another question. Shouldn't we be giving a richer state like Kerala the right to keep its resources rather than give it to Jharkhand, if states want autonomy?."
Speaking on the occasion, Jayant Chaudhary, Vice President, RLD, said,
"We are one nation ruled by the majority. But that doesn't mean you stop giving freedom to the voices. We need a positive aspirational campaign, we can't just keep criticising the last 4 years. The principle obstacles for a person from outside political families to enter politics is not as much from people in power, as much from the voting people. They need to vote on the basis of education, previous work, etc."
After the Debate, Ten News caught with some of the panelist to know their take about the Summit, Speaking to Ten News, Congress Leader, Jaiveer Shergill said,
"Youth ki Awaaz is a very important platform and Summit in today's time when the voice is being crushed. Youth Ki Awaaz provides you a platform to raise your voice to question the government. Questioning the government has become Anti-National according to Prime Minister Modi but the Democracy will only survive if the youth show the courage to shake this government."
Congress Leader Shashi Tharoor said,
"This Summit is a great idea to heard and be heard so what's good about the exercise we have seen so far is various view has been expressed. Students themselves are able to challenge and question to participate."
Hitting back at the BJP on 'Chinese Gandhi' remark on Rahul Gandhi ahead of Kailash Mansarovar Yatra, Tharoor said,
"The whole thing is absurd. It is completely baseless accusation. First of all lots of Indians go for Amarnath Yatra without being accused of Pro Chinese. They are probably devoted hindus that's why they go to Mount Kailash but they don't have nothing to do with China except the fact that Mount Kailash is in Tibet and Tibet is now controlled by China."