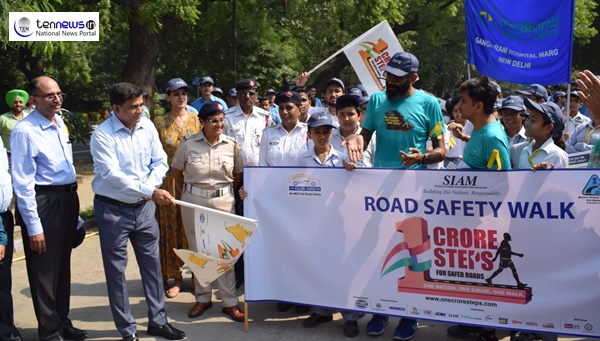 SIAM and Delhi Traffic Police host 'Walkathon to Promote Road Safety' in National Capital!
New Delhi: To make people aware about road safety, a national campaign "Walkathon to
Promote Road Safety" was hosted by Society of Indian Automobile
Manufacturers (SIAM) and Delhi Traffic Police at India Habitat Center, New Delhi.
SIAM India, Director General, Vishnu Mathur, urged everyone present at the SIAM walkathon to walk for a cause and #WalkwithSubu to generate awareness around pedestrian safety. The campaign supported by various NGOs, has gained massive support. young blood of the country also joined this initiative to safeguard the pedestrians on road.
Subramanian Narayanan, 41, is already on a mission to walk from Kanyakumari to Kashmir to promote road safety. Subramanian Narayanan will commence a 3,600 km to spread awareness on the fatalities in road network paths and promote road safety. Being undertaken under NGO Drive Smart Drive Safe's 1 Crore Steps for Safer Roads' initiative, the Hella India employee will cover the 20 cities across South, West, and North India in 60 days.
Speaking on the Occasion, Alok Kumar, Joint Commissioner, Traffic, Delhi Police, flagged off the walkathon outside Air Force Bal Bharti School, Lodhi Road and said,
"1 Crore Steps has become a testimony to the fact that if we walk together, we can make a difference. Addressing the students at an early age will bring overall discipline & a sense of safety on roads
Millions drive on Indian roads, 400 everyday doesn't come back home. Road deaths are biggest cause of unnatural deaths in our country. At the same time had road behavior, rampant road rule negligence cause accident, stress and loss of productivity to all road users, hurting daily commuters and impact every Indian citizen."
"There is loss of human life, economy & resources whilst road accidents occur. A strong campaign like 1Crore Steps is the need of the hour," said Ramashankar Pandey, MD, Hella India.