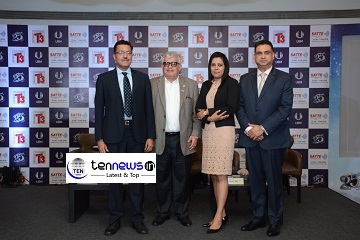 Silver Jubilee edition of 'SATTE' | South Asia's leading Travel and Tourism Exhibition by UBM India
SATTE 2018 Conference agenda
 DAY 1
 11 AM – 12 PM: UNWTO: How can we achieve the successful journey to 2030
UNWTO recently launched the Tourism and the Sustainable Development Goals Programme as a legacy of the International Year of Sustainable Tourism for Development 2017. The Programme aims at advocating for the contribution of sustainable tourism´s to the 17 SDGs and encouraging the full integration of tourism and the SDGs in national, regional and global agendas.
The concept of Sustainable tourism – The concept of sustainable tourism will be introduced by combining 2030 projection of tourism market and 2030 agenda for sustainable development.
"2017 the international tourism Year for sustainable development" -Achievements and lessons
Journey to 2030: Tourism and the Sustainable Development Goals – UNWTO and UNDP are jointly producing this report and it will be a roadmap for tourism stakeholders to achieve the SDGs by empowering and inspiring them.
– Also, "tourism and SDGs Platform" will be presented (UNWTO will introduce this international governance at the closing ceremony in Geneva 19 December 2017).
How to facilitate the initiatives for the "journey to 2030" – This will mainly focus on the catalysts boosting implementation of the initiatives for sustainable tourism. – The role of lead actors, collaboration, core value, etc. will be suggested as crucial factors for the success of sustainable tourism initiatives.
Panel Discussion 1 – How to realize effective collaboration between stakeholders for sustainable tourism? 
Discussion items in this subjects
– Who are/ should be lead actors in the collaborative works
– How to overcome the barriers to collaboration
– Wildlife tourism in India and stakeholder participation 
12 PM -1.00 PM: Panel Discussion II: Visa Reforms and Growth in Tourism 
Any country's foreign tourist arrival numbers largely depend on the visa facilitation process. Various think tanks suggest that there is a need to advance travel facilitation as a means to promote tourism development and multiply its socio-economic benefits. We have seen countries having stricter visa regime losing out on tourism numbers. We all know that visa facilitation can boost demand, grow exports and create additional jobs. It is clear that the restrictive visa-issuance policies and complicated entry formalities are still stifling tourism growth, particularly from emerging economies, which are also some of the fastest-growing source markets for tourism. UNWTO believes that the current security challenges should not deter us from advancing visa facilitation. What should be the way forward?
2.15 PM to 3.00 PM : Panel III  : Workshop on GST 
3.15 PM – 4.15 PM Panel IV – Niche Tourism: Harnessing the potential of local experiences
Today globetrotters are travelling not only for mere sightseeing, but to immerse themselves in the local culture and authentic experiences of the destination. With International travellers looking for more authentic products, Indian market is today ready to cater to these demands with some local and unique experiences. India has abundance of experiences with products like Wellness and Ayurveda, Religious tourism, eco tourism, rural experiences which are now picking up. Also India is the home to Himalayas, Sunderbans and thousand of kilometers of backwaters, which gives tremendous opportunity for adventure tourism.
What is the trend in inbound travel for niche tourism? Are we harnessing the potential of this segment? How this segment has helped in development of local communities? Are the Indian niche tourism products ready catching attentions of international and domestic travellers looking to whet their reason for travel? Are companies or destinations in India effectively wooing travellers for its niches? How Indian products are faring in the global market for niche tourism?
The panelists will discuss about the potential of this segment and how it can be further improved. Also the speakers will speak about how to brand the real authentic India on a global scale.
4.00 PM – 5.15 PM – Destination Presentation by Ho Chi Minh City
DAY 2
10.30 AM – 11.15 AM: Destination Presentation by Egypt
11.00 AM -11.45 AM: Workshop on Cruise Tourism 
CRUISING – ARE YOU SELLING IT RIGHT?
Steady cruise industry growth in recent years has been a result of cruise evolution – a process brought about by the innovations developed by cruise lines to advance the product experience for the traveller. In this session we will look at the latest developments in all forms of cruising, and how it affects what you are selling now compared to five years ago.  
Conducted by Peter Kollar, Head of International Training & Development, Cruise Lines International Association 
12.00 PM to 1.00 PM: Panel V: Cruise Tourism: Untapped potential 
Global Perspective & India:
Authenticity of Numbers: Year-after-year, everyone presents a rosy picture for the cruise industry. Some study pegged the number of Indian outbound cruise traveller in the range of 120,000 -150, 000. How authentic is this figure? 
Agent's reluctance: Why travel agents are not selling cruise in great volumes in India when it offers a far higher agency commission compared to what airlines used to offer? 
Cumbersome cancellation policy: Cruise bookings generally attract very high cancellation penalties. Is there a way to safeguard against these?  
Lucrative Offers V/s Perfect Holidays: Many cruise liners consistently advertise 3rd and 4th pax free if sharing the cabin with two full fare paying adults. Does this proposition make a holiday perfect?
India as a Cruise destination: We keep hearing that India has a huge coastline and can emerge as one of the popular cruising destinations. Is there truth in this statement considering there are challenges like inadequate infrastructure, restricted movement of foreign cruises and taxes levied are based on the tonnage rather than number of passengers amongst others?
2.30 PM – 4.00 PM: Panel VI:  Workshop on MICE by ICPB & Panel discussion on MICE by ICPB 
4.00 PM to 5.00 PM: Panel VII:  Travel technology, new tool, social media and marketing
The travel industry is constantly evolving with the emergence of new technology.   With every passing day, we are witnessing that the new and innovative technology is being developed to make travel and tourism industry more exciting and tempting. Data has started playing a big role and everyone is talking about big data. Social media has emerged as the most important promotional and sales tools for the tourism and hospitality industry. The session will take a comprehensive view on overall development in the travel technology domain:
Why is data so crucial to the travel industry?
Virtual Reality – Necessity or luxury?
Artificial Intelligence – Replacing traditional customer support?
Online Reputation Management – Never growing old
What about big players like Apple, Google, Facebook and Amazon – where do they fit into this?
Social Media and marketing
Day 3
10.30 PM – 11.30 AM: Panel VIII: Hotel
The dynamics of the Indian hospitality industry has seen a major metamorphosis in the last decade. Today, the nation has some of the best international hotel chains, who are now further eyeing to tap the potential to its fullest. According to a report, India is growing consistently since 1995/96 from just 120 hotels with about 18,000 branded or organised rooms to a record 887 hotels with a room count of 113,622 in 2015/16. On a nationwide basis, new branded and/or organised supply grew by 9.9 per cent last year. Demand outpaced it considerably to increase by almost 16.4 per cent in the same period.
One of the major growth stories for the hospitality chains are the Tier II and III cities in India. The ever-changing demographics of these smaller cities are making a huge difference for the hotel chains.
Panellists will discuss the immense opportunity in India market and further scope for investments. Also hoteliers will speak about their pipeline. 
11.30 AM – 11.40 PM: Tea/Coffee Break 
11.40 PM – 01.00 PM: Panel IX: Cinema Tourism: Power of 35 mm
Cinema Tourism is a growing phenomenon worldwide, fuelled by both the growth of the entertainment industry and the increase in international travel. The benefits of cinema tourism are becoming increasingly visible. When it comes to Cinema Tourism, Bollywood, the multimillion dollar Indian cinema industry has been the frontrunner. Every year around 50 millions international tourists choose their destination mostly because they see a film shot in the country.
Destinations like Spain have witnessed a sudden surge of 80% in terms of Indian visitations after the movie 'Zindagi na Milegi Doobara' was shot in the destination. Troy, which was short in Turkey saw 73% increase in visitors arrivals in next one year after the release of the film. Another movie 'Four Weddings and a Funeral' shot at The Crown Hotel, Amersham, England saw the hotel fully booked for at least three years. Life of Pie pushed the visitor numbers to Puducherry and Munnar in Kerala. We have seen Switzerland, Spain, Turkey, Ireland and other destinations getting increasingly popular in India as many bollywood movie and TV serials were shot there.
This wide popularity has sparked many new innovative products such as, cinematic theme parks, Film city tours, cinema tourism packages, etc.
The session will be divided into two parts; firstly speaking about the new products which have arisen from the cinema tourism and development and implementation of film-related tourism products. Secondly, how NTOs are tapping this potential and can further use cinema as a marketing tool to promote the destination to drive footfall and what are the aspects that producers look while choosing a destination.