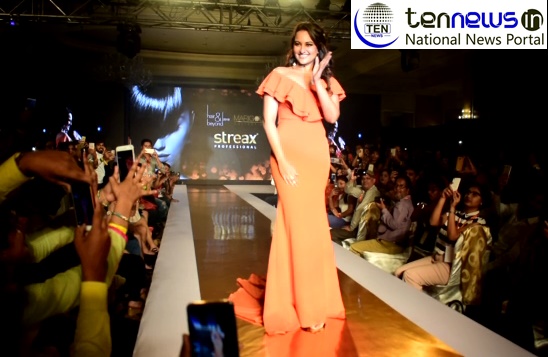 Sonakshi Sinha takes up the ramp to flaunt Marigold Hairstyle at Streax Professional mega hair show 'Hair & Beyond'
Prerit Chauhan (Photo/Video) By Lokesh Goswami Ten News Delhi :
New Delhi: Summer is upon us and it's time for fashionistas to embrace the season with style and sparkle. Bringing vibrancy and elegance to the hair styling trends this season, Streax Professional, the premium hair products brand specially crafted for salon professionals and technicians, today launched its Spring Summer 2018 Collection 'Marigold'. Ruled by the shades of golden, copper and blondes, the Marigold collection signifies the celebratory mood that the season brings in. The collection was launched at Streax Professional's exclusive mega hair show 'Hair & Beyond' that inspires aspiring and practicing hair stylists to be creative in the field of Cut, Colour & Style.
Announcing the launch of the new collection, Rochelle Chhabra, Professional Division Head, Hygienic Research Institute said, "Streax Professional Spring Summer 2018 Collection 'Marigold' has been launched keeping in mind the latest trends in colour hues and customer demands this season. Brighter, bolder and spicier shades are much in demand today and we are happy to have these chic shades in our hair colour range, this season." Talking about the Hair & Beyond Campaign, she said, "Hair & Beyond is a remarkable campaign that focuses on educating and updating the hairstylists and aspiring beauty technicians about the latest trends in colouring and styling techniques. It is important to train our partners to know the best of hair colour trends so that they can achieve complete customer delight."
The ever-gorgeous Bollywood actress and style icon, Sonakshi Sinha, strutted the ramp flaunting the Streax Professional Spring Summer 2018 hair shades and took the glamour quotient a notch higher.
On the Occasion while Speaking to Media, The Gorgeous Sonakshi Sinha, Said, "It has been a wonderful Association for me as well as brand. Always happy working with them, Really happy to be back in Delhi. So much love at the event always recieve when i come here. 'Delhi dilwalo ki' i'm truly truly Thankful for the love and support."

Talking about her Hair care Regime, Sonakshi Said, "I need to take care of my hair because my proffesion demands styling my hair every single day that i'm working so its very important for me. Something which my mom taught me at an early age is to oil your hair every now and then to have good hair."