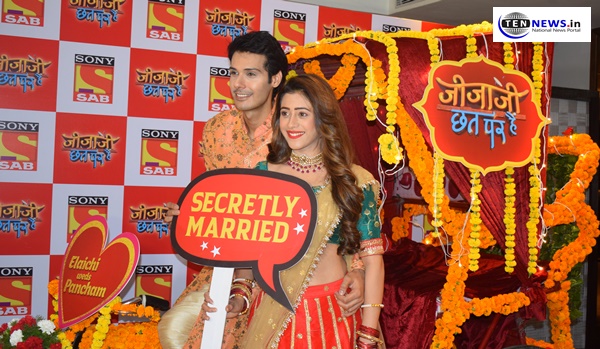 New Delhi: (14/06/2019) In an industry where big ticket shows have come and gone, a family entertainment show like 'Jijaji Chhat Per Hain' has made its mark. Sony SAB's favorite romantic comedy 'Jijaji Chhat
Per Hain' revealed their biggest plot twist in National Capital on Friday.
With the previous year being full of ups and downs for the lovebirds, Pancham and Elaichi, are finally getting to a point in their love storywhere it has come to a full circle with a celebration of their wedding. To thank viewers for their support and all the love they have showered on the couple's secret love affair and for supporting their decision to get married, the duo visited New Delhi for a quick meet and greet.
Hiba Nawab, assaying the role of Elaichi said, "Delhi's vibe always elevates my mood and I'm so glad we could visit Delhi for all the preparations for the wedding. Elaichi is the kind of girl who does what her heart wants; this wedding goes to show that she stands by what she believes. Having all these fans supporting Elaichi and Pancham's relationship was just amazing to me because they understand that true love is part of the characters' dynamics and that makes the show all the more exciting!"
Nikhil Khurana, essaying the role of Pancham said, "I was super excited to visit Delhi, it feels like home. The people are so interesting and always show so much care and love to us every time we go there. It is also exciting because the show finally leads up to the marriage and this is what Pancham and Elaichi have been waiting for. It was an absolute pleasure to meet with fans who rooted for them from the start"