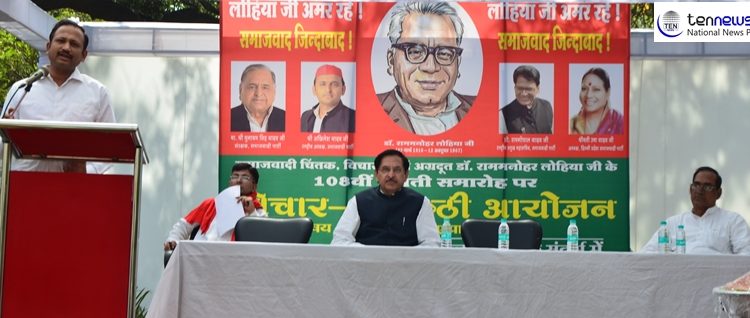 New Delhi: To mark 108th birth anniversary of socialist leader Ram Manohar Lohiya, the Samajwadi Party (SP) leaders hold a programme on Lohiya's thought and panel discussion in the light of winning Gorakhpur and Phulpur by-poll seats on Friday afternoon.
The panelist said that Lohiya's thoughts were social centric but the current government is only working for some corporate houses.

"Lohiya's thoughts totally fit in today. The seed he had sowed in 1962 in Phulpur is now giving fruits. And by-poll result of the Gorakhpur and Phulpur is the perfect example. The government which will work for the society will win," said General Secretary of SP RS Yadav in the event.
Recently, SP candidates with a support of BSP, won two by-poll election Gorakhpur and Phulpur including citadel of UP Chief Minister Yogi Adityanath.
Replying to a question of BSP-SP alliance in 2019 General Election, he said, "The people had witnessed what change can be done if two socialist parties fight together. We are looking forward towards the alliance but nothing is confirmed yet."
Speaking on the issue to extend support to BSP in Rajya Sabha election, he said, "We parties are committed to trounce BJP in any election. We are support BSP in this election. The result will declare soon."