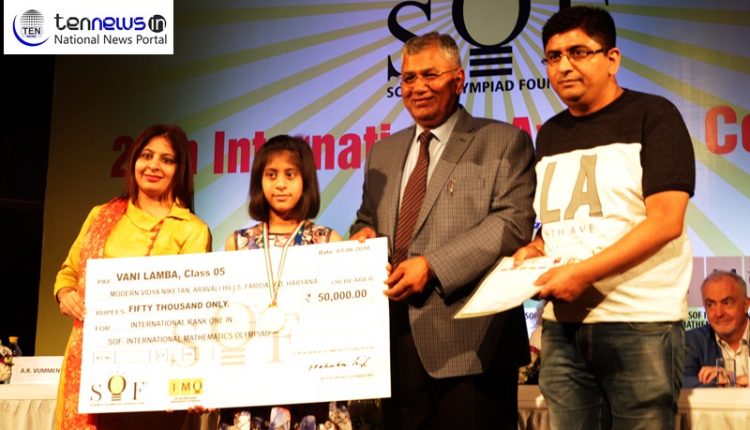 Students, Teachers and Principals Felicitated at Science Olympiad Foundation's 20th International Awards Ceremony!
ROHIT SHARMA / PRERIT CHAUHAN
Delhi: Science Olympiad Foundation on Sunday, organized a felicitation function at India Habitat Centre, New Delhi to recognize & award the winning students, teachers and principals of Olympiad exams held during the Academic year 2017-18. During the Programme , Top 3 SOF international rank holders from classes one to twelve for the 6 Olympiad exams conducted by SOF were awarded. There were total 180 awards.
Over 45000 schools from 1400 cities across 30 countries participated in the six SOF Olympiad exams during 2017-18 and around millions students appeared in the Olympiad. Total participation from Delhi was 286523 students.
On the occasion, Chief Guests, Minister of State for Law & Justice and The Ministry of Corporate Affairs, P.P. Chaudhary, Padma Shri Prof YS Rajan, Former Chairman, NIT Manipur Distinguished Prof. at ISRO, Michael King, Director Examinations, India, British Council, and Ahalada Rao Vummenthala Vice President, The Institute of Company Secretaries of India were present.
Students from Delhi shined in Olympiad, class 12th Shubh Goel from BIRLA VIDYA NIKETAN (SR. WING) got International Rank one in International Company Secretly Olympiad (ICSO) and won Gold Medal and cash rupee One Lac, Smriti Sehrawat class 12th student from DELHI PUBLIC SCHOOL, VASANT KUNJ got international Rank one in National Science Olympiad and got Gold Medal and Cash Fifity Thousand rupee.
The awards included: International rank One 60 awards. – Each winner awarded Rs.50,000, a gold medal, Merit Certificate, International rank Two 60 awards. Each winner awarded Rs.25,000, a silver medal, Merit Certificate, International rank Three 60 awards. Each winner awarded Rs.10,000, a bronze medal and Merit Certificate . ICSO Rank one received one lac and Gold .
The top 25 principals and top 50 teachers from 30 countries – whose students put up an exceptional performance at international level, were also felicitated with cash awards, mementos & citations.
P.P. Chaudhary, Talking to Ten News, applauded the excellence in academics by the students and schools and motivated them into continuing excellence.
Mahabir Singh, the founder & Director of SOF Said, "over 45000 schools from 1400 cities across 30 countries participated in the six SOF Olympiad exams during 2017-18 and millions of students appeared in them. About 55000 students from 5850 schools have been awarded for achieving top state level ranks. In addition, over 8,00,000 students have been awarded Medals of Excellence for achieving top rank in their respective schools. 1500 principals & teachers were also honored for their commitment to academics and single minded pursuit in improving the students academic knowledge and successfully preparing them for competitive exams."