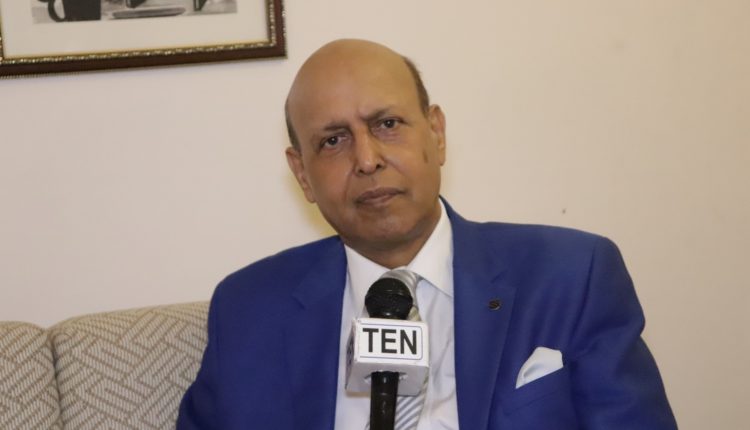 Lt Gen Rajender Singh (RETD) is a highly decorated professional soldier who has been the recipient of PVSM (Country's highest distinguished service award) and many other awards for acts of bravery and distinguished service.
He was also appointed as the force commander for United Nation Peace Keeping Force between 2004-06. After his retirement in 2007 he worked for the welfare of downtrodden and needy and started another journey as the CEO of DLF foundation.
Before joining the DLF's philanthropic arm, he was heading the largest arm of the Indian Army as the Director General of Infantry.
Ten News spoke with Lt Gen Rajender Singh (RETD) on various issues concerning the present time Union Government, the four year regime of PM Modi, the surgical strike issue as well as the expectations that he has with Indian Government. Here are the excerpts of the conversation.
Ten News : How do you see the past four years of Modi Government ?
Lt Gen Rajender Singh : I find that when Modi came to power there was tremendous amount of hope and euphoria. Every one felt that country was going to launch itself on a progress path like never before. In past 4 years many of such aspiration have turned into reality however there are equal number of equally important of aspirations which have not come true.
As far as the achievements are concerned, his greatest achievement is his honestly and the fact that he wishes well for the country. He tries to work hard to achieve the objectives that he had set for the country.
Talking of governments performance we have surely achieved a better place in global terms, we have also been able to establish a place for ourselves in committee of nations, we have also made great strides as far as our improvement of relations with large number of nations are concerned be it US, South Asian Countries or African nations. We have established ourselves as a power that cannot be ignored. The relationship with our neighbors can be said to be mixed. Our relations with China has now come on an even place.
About his achievements in other fields, Modi has not shied away from trying out new and innovative things. In the field of power sector, building roads the performance has been extraordinary. The financial field although leaves a field for improvement, Some of the path-breaking moves have not fulfilled their objective.
The economy should have grown at a faster rate although the current pace is also fine. The Modi government's "Sabka Saath Saath" narrative has not come up to the expectations of large sections of society. They failing to stop these so called cow vigilantes has done a tremendous amount of damage to Modi governments credebilty.
If this party want to promote Hindutava let people decide but people would certainly not want that a section of this country are discriminated against. Under the garb of fake hindutava the fringe must not be allowed a free run. I think this is governements biggest folly.
There is also a perception that this government and PM Modi himself is slightly arrogant. They have surrounded themselves with people having certain kind of mindsets. His advisers don't seem to be representing the large sections of the country.
I think it is very important for a Prime Minister to get benefit of advice from the large number of those scholars who may have different opinion. The responsibility of decision lies with the PM but after listening to pros and cons given by large cross sections of advisers.
In economy we seem to be slipping probably due to some faulty decisions,  bureaucratic issues and other factors. I think PM need to take note of these things and need to have more number of people surrounding him with different opinions.
Another important thing is that if India has to grow it has to grow in number of fields. Its foreign policy, economic policy has to be good. The Kashmir policy has been a failure. Because of some political compulsion the situation seem to have worsen. They have also failed to modernize the armed forces. Our armed forces are one of the worst equipped despite being the best.
There handling of armed forces per say also needs a lot of improvement. They seem to have antagonize the veterans in big way.
Ten News : How do you see the surgical strike issue? The video release and the said politicization of the issue?
LT Gen Rajender Singh : It is important to mention that Indian Army has always been a very professional army and has enjoyed a fair amount of autonomy in all regime. Army has always been allowed to do what is required to be done in a broad sense. However the difference remains in kind of response that you do in a particular situation. In ABY regime the response was quick and fierce. In Manmohan Singh government the autonomy was fairly good and environment was quite conducive for negotiated settlement.
In Modi government era lets admit the emphasis to teach Pakistan a lesson has been much more. Therefore some measures have been taken in this regard and free hand been given to army. This surgical strike is a step in that direction which has been able to achieve its limited aim. It has conveyed to Pakistan that our actions must be not interpreted as a sign of weakness and we will not wary to cross LOC if need be.
Surgical strikes have happened in past but they were isolated and separated by quite some time. This surgical strike was a coordinated move.
Ten News  : You have worked with DLF foundation as a CEO for very long. What has been your observations in terms of India's soft power and what has future in store for us?
LT Gen Rajender Singh : When I joined the DLF foundation, I got an opportunity to formulate and also evolve a kind of strategy for ourselves. Chairman KP Singh felt that we need to do a lot for poor and privileged of the country and our focus must be on 3 to 4 fields.
We tried to supplement government efforts to bring a change. We concentrated on three issues namely healthcare, providing best facilities to those who can't afford it. In addition we concentrated in field of education by promoting and nurturing talent program. We started by running 30 schools in rural areas also we started a program where we selected bright kids and put them in public school. They were provided for from class 6th to 12 and further helping them to get a college.
Lastly we focused on skills development. The intention was that unless you skill people in the fields where they can get job. The foundation also received Golden Peacock award twice for these achievements.
Ten News : What is an advice that you want to government to work upon in run up to 2019 elections?
LT Gen Rajender Singh : Modi government has all good intentions but its PR needs to improve. They are sounding too arrogant and that needs to be softened a little. The level of politics has also worsened and must be brought down to decent level. The political discourse needs correction. We need to talk about achievements and future course of action.
Government must concentrate on performance of some of its ministries which are not doing well. The need is to focus on rural development where the fruits of programs which have been started have not reached to rightful recipients.