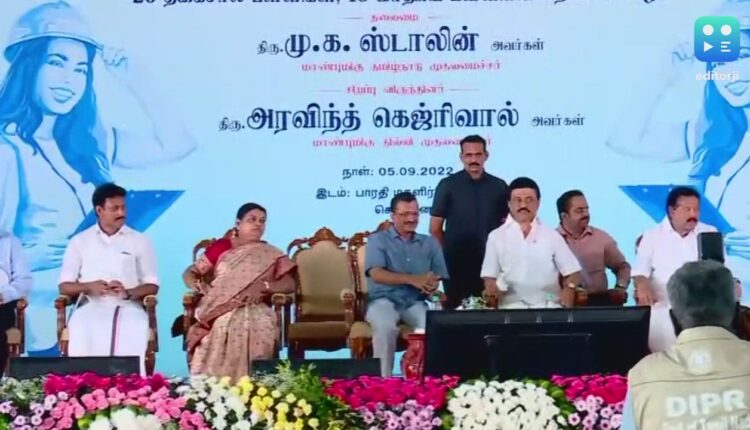 New Delhi, 5 September 2022: Tamil Nadu Government on Tuesday inaugurated Schools of Excellence and Model Schools Scheme based on 'Delhi's School Model' by Delhi Chief Minister Arvind Kejriwal.

Kejriwal also launched the scheme at an occasion held at the state-run Bharathi Women's College in Chennai, in the presence of his counterpart from Tamil Nadu, M K Stalin.
According to the scheme's first implementation, up to 26 Schools of Excellence and 15 Model Schools are included. The SoE and Model Schools' official Tamil names are decided to be "Thagaisal Palligal" and "Mathiri Palligal."
Stalin will introduce the Moovalur Ramamirtham Ammayar memorial "Puthumai Penn" (Modern Woman) Scheme, which will offer girl students who attended government schools from classes six through twelve a monthly financial aid of Rs 1,000 in order to pursue further education. The system was updated in recognition of the fact that very few lady students from government schools enroll in higher education.
The program would pay all girl students enrolled in government schools from grades 6 through 12 Rs 1,000 each month until they had successfully completed their undergraduate degree, diploma, and ITI programs.
This financial aid would be available to the students in addition to existing awards. Approximately 6,00,000 female students could possibly benefit from this initiative each year. The budget included Rs 698 crore as funding for this new scheme.