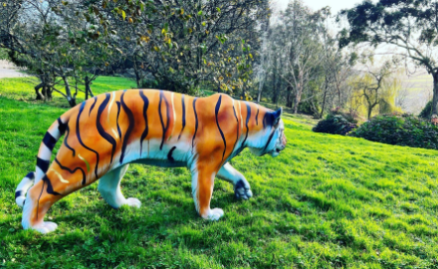 India, March 14, 2022: Tata Consultancy Services (TCS) (BSE: 532540, NSE: TCS) announced it is the Official Solutions Partner for World Wide Fund for Nature Singapore's (WWF-Singapore) AR-mazing Tiger Trail, a highly visual and gamified exhibition aimed at driving awareness and action on tiger conservation and sustainability.
The WWF-Singapore's AR-mazing Tiger Trail, which is open now till April 9, comprises 33 life-sized tiger sculptures exhibited across different parts of Singapore, including iconic spots such as Gardens by the Bay and Sentosa. These sculptures are designed by more than 60 local and international artists, and seek to educate visitors about the debilitating impact on the tiger population in Asia caused by events such as climate change, poaching and deforestation.
Besides the physical exhibits, visitors can also experience a digital version of the trail by scanning a 'QR' code at the base of the sculptures. Powered by TCS, the digital trail is co-designed with WWF-Singapore and provides users with an Augmented Reality (AR) view of the tigers and their dwindling natural habitats, thereby amplifying the messages on nature and biodiversity.
R Raghunathan, Chief Executive Officer, WWF-Singapore, said: "WWF-Singapore's AR-mazing Tiger Trail was curated as a fun and creative way to ignite discussions and encourage education around the vital issues facing the wild tiger population today. We are delighted to work with TCS to create a digital version of the trail that is not only complementary of the physical trail, but will also allow visitors in Singapore and around the world to enjoy a more in-depth experience that is both interactive and informative.
I believe this will in turn make the global community more aware of the plight of tigers and enable more individuals to contribute to the cause of tiger conservation and protecting their habitats. Each one of us can make a difference."
"TCS is proud to be the Official Solutions Partner of the WWF-Singapore's AR-mazing Tiger Trail, especially as we have just welcomed the Lunar Year of this iconic animal. We are committed to creating a better and more sustainable future for the world through our knowledge and expertise in digital technology, and through this meaningful collaboration with WWF-Singapore, we are glad to play our part in helping WWF-Singapore realise its vision of having people live in harmony with nature," said Ameet Nivsarkar, Country Head, TCS Singapore.
Michele Lemmens, Head of Business Sustainability and CTO, TCS Asia-Pacific, said: "TCS believes in creating meaningful futures for all through relationships that endure, and our partnership with WWF-Singapore builds on the belief that when we combine our know-how and innovation mindset for the right causes, we can create impact and achieve amazing things together."