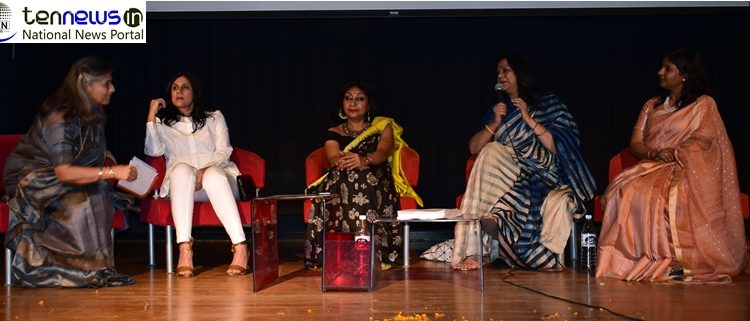 We should Teach our children to respect women for a positive change
Kashif Hasnain (Photo/Video) By Lokesh Goswami Ten News Delhi :
New Delhi: The capital showered its respect to womenhood by celebrating International womans week on 7th March, 2018.
Shoobh group welfare society organised a day's event which were women centric and was a token of appreciation to what women of 21st century has been contributing to make our society a better place to live in.

The event kick started with a group art exhibition of renowned women artists, which includes names like Ranjeeta Kant, Nupur Kundu, Shruti Gupta Chandra, Shuchi Khanna, Dr. Amrit Kapoor , Sangeeta Gupta and almost 12 more artists from all over India.
The artwork of these women artist with the support of organizer Shoobh Group Welfare Society showcased empowerment of women, strength, versatility, patience and motivation to bring prominent positive changes in the society.
Followed by this was a classic dance performance Devi- curated by Jyoti Srivastava.
Womens are the pillar of the society on whose shoulder there are responsibility to take forward the existence of mankind in a smoother way. She is generous, passionate, and audacious and she knows an absolute solution to all the problems in the same way women Artists in this exhibition added beauty and elegance to their artworks and conveyed message through their paintings.
The event also saw an interactive panel discussion on – Defining future role of Women in India & Women in Art & Culture: Changemakers for tomorrow.
While discussion they jumped to the conclusion that we should teach our children to respect women, girl.
To make it more effective, we should also pitch an idea to the government to add a lesson in primary school syllabus to teach to respect women.
This session was being moderated by Goldy Malhotra and it was focussed highly upon the visible changes that has became an integral part of our culture and society. It also highlighted the role prominent women has played to empower India as a whole and has made outstanding contibution in the growth of the country also recognised and felicitate both well-known and unsung women from different fields of expertise by launching a publication entitled "Phenomenal SHE" featuring 100 women achievers of India.