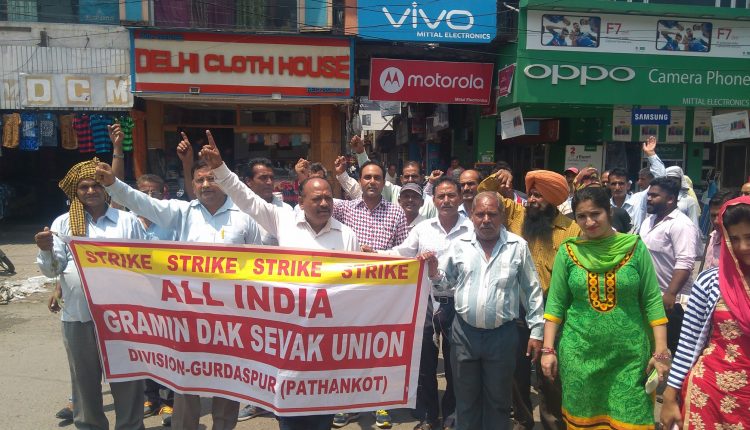 New Delhi: The strike called by Gramin Dak Sevaks (GDS) entered into 16th day on Tuesday, with the Central government still not paying any heed to their demands. Consequences were that, the postal service in rural parts of the country were adversely affected and the citizens deprived of their basic needs like pension, passport and other important documents.
Various unions like the All India Trade Union Congress (AITUC), Centre of Indian Trade Unions (CITU), Indian National Trade Union Congress (INTUC), National Federation of Postal Employees (NFPE), All India Postal Employees Union (AIPEU), All India Gramin Dak Sevaks Union (AIGDSU), National Union for Gramin Dak Sevaks (NUGDS) are protesting for the implementation of recommendations of Kamlesh Chandra Committee report 2016.
On Wednesday, Gramin Dak Sevaks and various Unions who participated in GDS Strike got the news they were looking for. Cabinet approved Revision in the wage Structure and allowances of Gramin Dak Sevaks. GDS Are seeing this amendment as a historic win after protesting for more than two weeks.
The Revision in the wage Structure and allowances of GDS at a Glance:
It is decided to continue the calculation of the ex-gratia bonus by applying the calculation ceiling of Rs.7000 as basic TRCA + DA till such time a new scheme is devised.
Arrears for the period 1.1.2016 to the date of implementation will be paid by increasing the basic TRCA drawn during the period by a factor of 2.57. The arrears will be paid in one instalment.
Annual increase at the rate of 3% and the same may be given on lst January or lst July of every year as the case may be based on the one time written request of 6055.
Dearness Allowance will continue to be paid as a separate component, and also revised from time to time whenever it is revised for Central Government Servants.
A new Risk and hardship Allowance has been introduced.