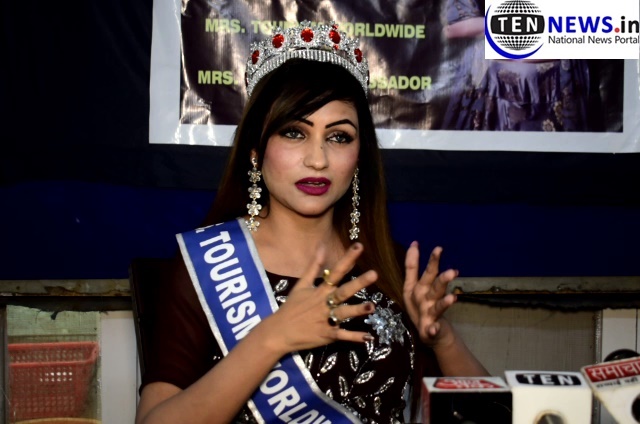 Ten News' special interaction with Dr. Tara Shweta Arya aka Mrs. Tourism Worldwide 2019!
Vishal Malhotra (Photo-Video) Lokesh Goswami Tennews New Delhi :
New Delhi (02/11/2019): Dr. Tara Shweta Arya (Gynaecologist) brought laurels and pride to the nation by becoming the first and only Indian representative to win 3 titles at the annual Mrs. Tourism Universe beauty pageant. Dr. Arya won Mrs. Tourism Worldwide 2019, Mrs. Tourism Ambassador and Best in National Costume award at the Mrs. Tourism Universe 2019 beauty pageant concluded on October 28, 2019 in the Philippines.
30 delegates from different parts of the world competed at this prestigious international beauty pageant for married women and Dr Arya was the only candidate there who received 3 awards.
Dr Tara Sweta Arya is a Gynaecologist and IVF Expert in Kishanganj Bihar. She has blessed more than 448 successful pregnancies to infertile couples till now.
Dr Arya was crowned Rubaru Mrs India 2019 earlier this year. Winning the title bestowed her with the golden opportunity of representing India at the Mrs. Tourism Universe pageant. This pageant has several stages before grand finale like Talent competition, National costume competition, Public Speaking, personal interview and Forum etc. She has cleared all stages with her self-confidence and preparations.
Speaking to Ten News, Dr Arya mentioned, "A few moments prior to the commencement of the final event of the pageant, she faced a foot injury yet she appeared for event. But when you are carrying so many hopes of so many people on your shoulders, backing out is not an option. I had to be there and it was very essential that I give my best." and she had to rushed to the hospital.
She further added, "With all the best wishes and prayers of the people and the God's blessings, I did manage to win 3 titles and feel really grateful for it.
Nothing seems impossible, if you have the courage to chase your dreams and with me along with my courage, it was my supporters' wishes and the almighty's blessings that kept me motivated and helped in perform during the pageant even in the pain. I feel really honoured that I won or I would rather say we won."