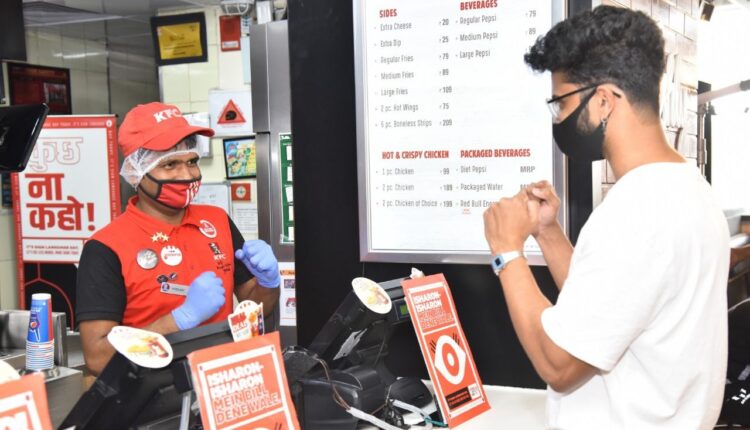 This International Day of Sign Languages, KFC India encourages to #SpeakSign
Delhil, 20th September 2022: With an aim to spread awareness and acceptance about sign language as a mode of communication, KFC India is all set to celebrate the upcoming International Day of Sign Languages on 23rd September by urging customers to #SpeakSign. On this day, customers, and KFC teams across 33 Special KFC Restaurants, operated by 150+ specially-abled team members across 19 cities, will be encouraged to interact in sign language.

Creating a more inclusive environment, customers will be motivated to use less words, and more signs on this day. As a run-up to the day, short tutorial videos on KFC India's Insta handle, aptly titled 'Crunch Course in Sign Language', will guide customers on how to converse in sign at a Special KFC restaurant. On the day, customers will be greeted with interesting messaging as 'Give us a Sign' or urged to 'Kuch naa kaho' and communicate 'isharon isharon mein' at the restaurants. To promote greater awareness, a booklet that opens up into a poster for a 'Crunch Course in Sign Language' will be given out on all orders. This booklet demonstrates basic signs for catching up with friends and family over your favourite Bucket of KFC chicken. With signs for 'How are you?', 'What plans today?' to 'LOL' – customers can learn easy signs and make some crispy conversations over crispy food.
Team members will greet customers wearing #SpeakSign badges, and cheer them on to use less words, and more signs. Consumers successfully placing their orders in sign language can sport their support with a special #SpeakSign wrist band. This booklet will also be available across 600+ KFC restaurants across the country taking forth the brand's messaging with their ongoing KFC Kshamata initiative.
With the #SpeakSign campaign, the brand is aptly demonstrating their commitment towards strengthening gender and ability parity as part of the Kshamata program. The brand aims to bridge the gender and ability imbalance gap and increase the women workforce at restaurants by 2X by 2024. Likewise, the aim is to double the footprint of Special KFCs in India by 2024. Recently, the brand announced a milestone in their journey with Kshamata, with the appointment of the first specially-abled Restaurant General Manager in Hyderabad – Srikanth Jarugu. The brand has also been supporting and promoting the sport of deaf cricket as Principal Sponsors to the Indian Deaf Cricket Association (IDCA).