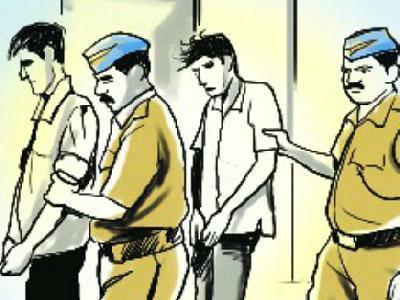 New Delhi: Delhi Police team was on patrolling duty on 10th June at night in South west. After reaching 100 foota Road, Chhatar Pur Mandir, Police found that some persons in a silver color Wagon Car were shouting loudly and quarreling with each other. The car was moving towards Tivoli Garden.
On suspicion, the PCR staff without wasting time, informed the Police Control Room and started chasing the suspect Car and intercepted it near Tivoli Garden.
There were three persons in the car and all of them were in inebriated condition. On enquiry, suspicion on them increased as they were incoherent in their versions. The car was searched and from its dash board, a '.315 Bore Desi Katta' was recovered. All three occupants of the car were apprehended and were later identified as Banti (Age-38 years), Amit (Age-33 years) and Mohd. Hashim (Age-23 years).
All three accused persons, recovered case property along with car were handed over to the IO of PS Mehrauli where a case vide FIR No. 329/18 U/s 25/54/59 Arms Act was registered and investigation taken up. Local police are verifying the antecedents and previous criminal record, if any, of the arrested accused.