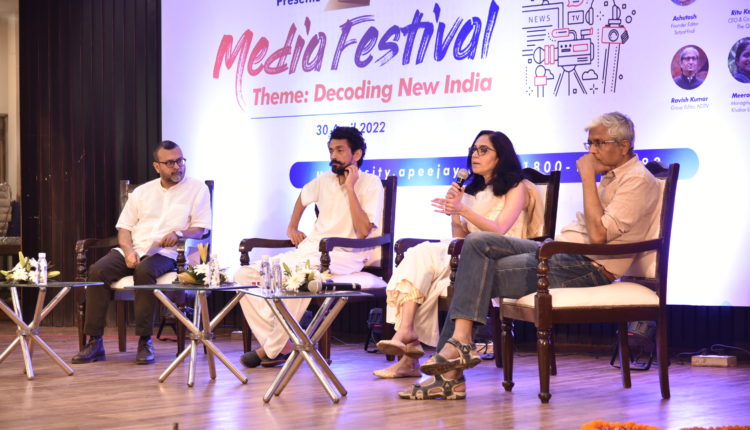 Top journalists discuss challenges facing Media industry at Media Festival by ASU
New Delhi,9th May 2022: Apeejay Stya University's (ASU) School of Journalism & Mass Communication (SJMC) recently hosted its flagship event 'Media Festival' on the theme 'Decoding new India'.
The speakers at the event included founders of emerging media houses to veteran columnists, who talked about media dynamism with the changing geo-political situations, quality of journalism, and sustainability & viability of media platforms in the present times, among other things.
The event began with an address by Mrs. Sushma Paul Berlia, Chancellor and Co-Founder, Apeejay Stya University, who set the tone of the event in her message. She said, "While many of us were confined to our homes during the Covid-19 lockdown, media professionals were leaving no stone unturned to bring to us necessary information and critical issues. Resilience in the media and its responsible growth is essential to the growth of the world."
In his keynote address, Mr Swapan Dasgupta, a Rajya Sabha MP and senior Journalist, shared his take on the varied perceptions of Prime Minister Narendra Modi among people, and also about the 'new India' in his regime. The Modi phenomenon was further elaborated by Nilanjan Mukhopadhyay, best known for his biography of the prime minister titled 'Narendra Modi: The Man, the Times'.
ASU Vice Chancellor Professor Raj S Dhankar said, "Our constitution has great contradictions which we have not been able to narrow down yet." Citing this observation, he also observed about the pay gaps and disparity in education among males and females in India.
Siddharth Varadarajan, Founder, The Wire, dwelled upon the many challenges that the media scenario is afflicted with.
Ravish Kumar, Group Editor, NDTV, moderated a session on the topic "Will new India be vocal for local news?" He discussed with panellists Neha Dixit, Senior Journalist, and Meera Devi, Managing Editor, Khabar Lahariya, the challenges local and independent journalists face in ground reporting.
Kanchan Gupta, Journalist and Senior Advisor, Ministry of Information &   Broadcasting, spoke about the role of big tech companies like Facebook and Twitter in eliminating net neutrality and influencing the nation's growth.
The other panellists were Abhinandan Sekhri, CEO & Co-Founder, Newslaundry, Ashutosh, Senior Journalist and Founder, Satya Hindi, Ritu Kapur, CEO & Co-Founder, The Quint, and Sanjoy Majumdar, Managing Editor, BBC, who discussed the issue of consumers' willingness to pay for credible news.
Professor Sanjay Ahirwal, Dean of SJMC, proposed the vote of thanks.