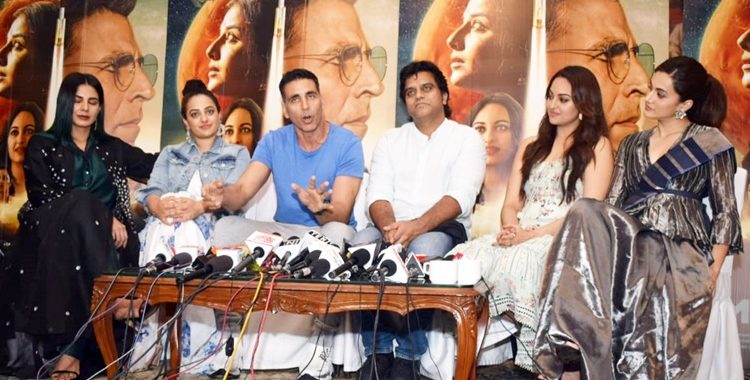 Two day ahead of release Akshay Kumar promotes Mission Mangal along with star cast
Saurabh Kumar (Photo-Video) Lokesh Goswami Tennews New Delhi :
Today the whole star cast of Mission Mangal was in Delhi for promoting the film two days before its release.
Directed by Jagan Shakti, Mission Mangal is based on the Mars Orbiter Mission (MOM), or the Mangalyaan project launched by the Indian Space Research Organisation (ISRO) in November 2013, to put a space probe in planet Mars's orbit.
The trailer featured the film's multi-female star cast, including Vidya Balan, Sonakshi Sinha, Taapsee Pannu, Kirti Kulhari and Nithya Menen and going through many ups and downs, the trailer delivers several goosebumps moments.
From the first look, Akshay looks impressive as the scientist spearheading the mission, which has been a milestone for Indian space research.
Answering media questions Akshay shared that Mission Mangal is a movie he did especially for his daughter and other children of her age.
"Mission Mangal, a film which I hope will inspire as much as it will entertain. A film which I have done specially for my daughter and children of her age to familiarise them with the incredible true story of India's mission to Mars," said Akshay.
While Taapsee Pannu sharing her experience told that, "Though I am a good at maths and physics but while doing this movie I came across some amazing facts about space. In the movie technicalities of the mission is explained is such a simple and interesting manner that even a child can understand it. "
The film is scheduled to release on August 15.